Climber who died in rock fall at Yosemite was celebrating first wedding anniversary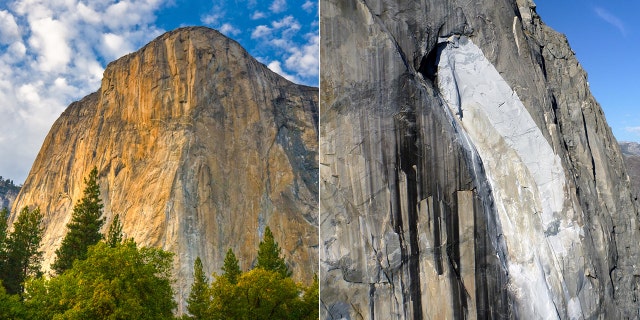 The British man killed Wednesday after being crushed by a granite slab that fell off of Yosemite National Park's El Capitan formation was celebrating his first wedding anniversary with his wife.
Witnesses saw Andrew Foster, 32, and his wife, Lucy, 28, get hit by a giant granite slab as they were hiking at the bottom of El Capitan, far from trails used by most of the California park's visitors, Scott Gediman, the park's spokesperson said.
The slab was about 130 feet tall and 213 feet wide and fell from the popular "Waterfall Route" on the East Buttress of El Capitan. The weight of the slab was not immediately known, but Gediman said all of the rock falls combined on Wednesday weighed 1,300 tons.
Andrew was killed and his wife was hospitalized. Her condition was not immediately known.
The couple were at the park on a "dream holiday" to celebrate their anniversary, People reported.
The Guardian reported the couple traveled to the U.S. with friends on Sept. 11.
SLAB IN DEADLY YOSEMITE ROCKFALL WAS 'SIZE OF AN APARTMENT BUILDING'
The couple chronicled their adventures on their social media accounts and their blog titled "The Adventures and Thoughts of Andrew & Lucy Foster."
The adventurous couple described themselves as "a young married couple that enjoy nothing more than getting out and having adventures in the mountains together."
They added on their blog: "We are not extreme athletes and describe ourselves simply as passionate weekend warriors. While our blog is just a log of what we have done we do hope that it will inspire other people to get out and experience the natural world."
The couple, who were experienced climbers as well as skiers, got engaged in the French Alps in 2015, The Guardian reported.
On the couple's Instagram page, the latest post showed Andrew resting on a rock with his shoes off. The caption stated: "Yosemite has broken Andy. Time for a rest."
Andrew worked as a sales representative for Patagonia, a company that sells outdoor clothing.
YOSEMITE'S EL CAPITAN SEES NEW MASSIVE ROCK FALL 1 DAY AFTER DEADLY SLIDE
"It is with much sadness that we mourn the loss of our dear friend and colleague Andrew Foster, who was killed in a tragic accident in Yosemite. He was a much-loved member of our team and a passionate climber mountaineer and skier who loved being in the outdoors," Patagonia said in a statement to The Guardian.
Rocks along the world-renowned park's climbing routes break loose and crash about 80 times a year. The last time a climber was killed by a rock falling at Yosemite was in 2013, when a Montana climber fell after a rock dislodged and sliced his climbing rope. It was preceded by a 1999 rock fall that crushed a climber from Colorado. Park officials say rock falls overall have killed 16 people since 1857 and injured more than 100 others.
On Thursday, another hunk of granite broke off of El Capitan, injuring an older man and sending out huge plumes of white dust.
The Associated Press contributed to this report.