Claims of death threats emerge in disappearance of Wash. couple
Investigators searching for a former Army Airborne Ranger and his wife, missing since Monday in Washington state, discovered their SUVs in the woods near Oso late Thursday as details emerged of the couple allegedly receiving death threats.
Police are treating the disappearance of 45-year-old Patrick Shunn and 46-year-old Monique Patenaude as "suspicious," because they say it's unusual for the couple to stay out of touch with family and friends for so long. The two own livestock, and witnesses said the animals hadn't been fed.
Their Jeep Wrangler and Land Rover apparently plunged down an embankment, Q13 Fox reports. Police said nothing about the couple's possible whereabouts.
The husband and wife were engaged in a legal fight with some of their neighbors, accusing them of assault, trespassing and scratching death threats in the mud, The Seattle Times reports.
In one case, Shunn claimed a neighbor walking a large dog pushed Patenaude, "thrusting his hips and slamming them into her side, yelling at her to 'get, get, get off the county road,'" court documents show.
Shunn sought a restraining order against that neighbor, but a court commissioner dismissed the request in January saying the encounter appeared to be unintentional, the Times adds.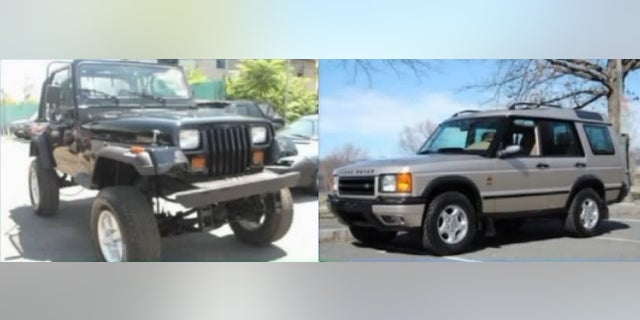 The husband and wife also claimed neighbors trespassed on their property with RVs and dogs off their leashes. The couple said the death threats started appearing in 2014, according to court papers.
Police say they don't have any suspects in the disappearance.
The pair was supposed to go to a concert Monday night, but never made it, Q13 Fox adds. Shunn's uncle said the couple's phones were shut off.
The two are from Arlington, a 1-hour drive north of Seattle. The wooded area where the SUVs turned up is east of their home.