Civil defense: Citizens, vets, guardsmen and cops take up arms to protect military facilities
It's supposed to be the other way around, but civilians – as well as state and local authorities – have taken up the task of protecting the military in the wake of the Chattanooga terror attack.
Citizens groups, veterans, local law enforcement and the National Guard are all standing armed watch over the men and women of the military, protecting them from terrorists and – some say - from a federal policy that leaves service members unable to defend themselves on Pentagon property.
"After the recent shooting in Chattanooga, it has become clear that our military personnel must have the ability to defend themselves against these types of attacks on our own soil," Texas Gov. Greg Abbott said. "Arming the National Guard at these bases will not only serve as a deterrent to anyone wishing to do harm to our service men and women, but will enable them to protect those living and working on the base."
"We're just a group of citizens who exercise their rights and do things like this when it comes to filling security gaps where the government falls short," spokesman Chris McIntire
The July 16 attack that left four Marines and a Navy sailor dead at Chattanooga's Navy Operational Support Center and Marine Corps Reserve Center, and followed a shooting at a recruiting center nearby, has sparked a national conversation on the 23-year-old policy. But governors, sheriffs, police chiefs and concerned citizens across the nation are not waiting for Washington to change the law.
The governors of Alabama, Arizona, Arkansas, California, Florida, Indiana, Louisiana, Mississippi, North Carolina, Ohio, Oklahoma,  Texas and Wisconsin have all signed orders in the last several days to allow National Guard troops to carry loaded guns on bases and at military recruiting centers in their states.
Citizens, veterans and local police are also stepping up to protect service members.
In Idaho, an 800-member volunteer group calling itself "3% of Idaho" is guarding military recruiting centers in an effort it dubs "Operation Guardian Angel."
"We're just a group of citizens who exercise their rights and do things like this when it comes to filling security gaps where the government falls short," spokesman Chris McIntire, who said his group is not a militia and takes its name from the number of colonists believed to have taken part in the Revolutionary War, told KBOI 2News on Tuesday.
James Maxwell was one of five men who stood guard Wednesday outside a Farmington, N.M., recruiting substation. He told the Daily Times service members deserve protection since the attack in Chattanooga and amid calls from ISIS for its "lone wolf" sympathizers to attack Americans who wear the uniform.
"They weren't expecting anything to happen in Chattanooga," he told the newspaper. "They're sitting ducks here."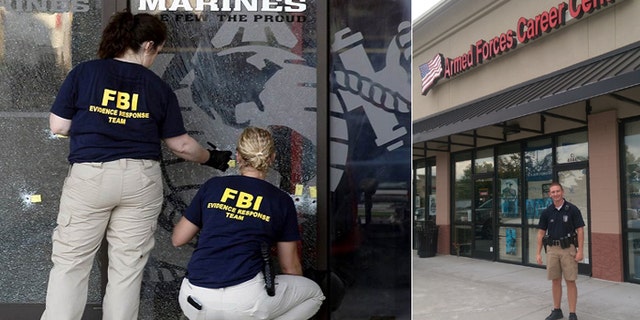 In Arizona, Gov. Doug Ducey signed an executive order Wednesday allowing Guard personnel to carry personal handguns in both military installations and while on duty.
"With the number of tragic shootings that have occurred on military installations in recent years, it's imperative that our soldiers and airmen -- people who put their lives on the line every day to protect our state and nation -- have at least the same level of self-defense as the citizens they're fighting for," Ducey said in a statement.
In Arizona's Maricopa County, Sheriff Joe Arpaio said he made his volunteer posse available at a U.S. Army Reserve facility at the request of a local U.S. Army official concerned about both the attack in Tennessee and an increase in surveillance at the Buckeye Reserve facilities.
"That's the beauty of this posse," Arpaio said. "When citizens feel the need for extra protection that doesn't come at a high cost to taxpayers, the armed posse can always be counted on."
Tennessee residents living near Chattanooga are still reeling from the attack carried out by Mohammad Abdulazeez, a troubled 24-year-old radical Muslim who was killed after engaging local police and at least two military members who were armed in possible defiance of the regulation. Several who spoke to FoxNews.com questioned the federal policy.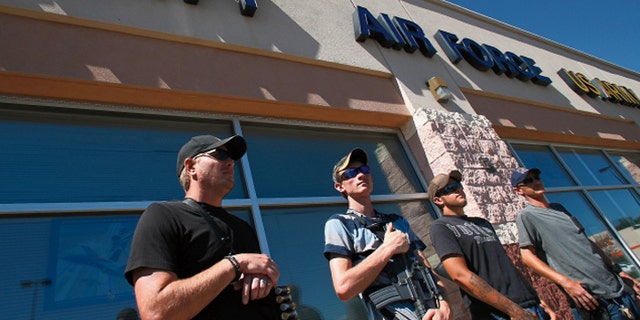 "This was reasonable in the past when our enemies were well defined, but we have known we were fighting a different kind of war for the past 14 years, with an enemy that transcends national boundaries," said Navy veteran and Chattanooga resident Alex Recalde. "If we know our military are targets, they must be protected."
Jessica Covert, whose husband was sworn into the Tennessee Army National Guard in April 2014, said her state should have been first to arm the National Guard.
"The government needs to help protect our soldiers so that they, in turn, can protect themselves and our nation," she said.
It was in 1992 when President George H.W. Bush's deputy secretary of defense, Donald Atwood, signed a directive limiting and controlling the carrying of firearms by military and civilian personnel.  Issued at least in part because of a rash of suicides on military property, the order dictated that soldiers on all military installations may not be armed while on post or carry any privately owned firearms. The only exceptions are for military police, security personnel, prisoner guards and service members taking firearms training.
"The authorization to carry firearms shall be issued only to qualified personnel when there is a reasonable expectation that life or DoD assets will be jeopardized if firearms are not carried," states the original order. "Evaluation of the necessity to carry a firearm shall be made considering this expectation weighed against the possible consequences of accidental or indiscriminate use of firearms."
Randy Morgan, a resident of nearby Cleveland, Tenn., was serving in the Army when that directive took effect.
"I remember they told us that we couldn't have guns in the barracks and I didn't really have an opinion at that time because we didn't have a so called threat then," Morgan said.
But more than two decades later, the former Blackhawk helicopter crew chief and airborne paratrooper has a clear-cut opinion on the issue now.
"I think every member of the military and veteran out there is a potential target for terrorists now," he said. "Every soldier is trained extensively in how to handle weapons. They need to have the ability to carry weapons, even if it's concealed on their persons, on military installations or out in public."
In the wake of a series of attacks on U.S. military bases, including the Nov. 5, 2009, shooting at Fort Hood, in which a deranged Army psychologist killed 13 and injured 30 and the Sept. 16, 2013, shooting at the Washington Navy Yards in which a contractor killed a dozen, lawmakers have called for repealing the directive.
Rep. Steve Stockman, R-Texas, introduced the Safe Military Bases Act in 2013, a measure that would have repealed the 20-year-old directive but has languished in committee. This week, in the wake of the Chattanooga attacks, Rep. Duncan Hunter, R-Calif., and Sen. Steve Daines, R-Mont., introduced the SEMPER FI Act, which would allow recruiters to be armed and to improve security at the centers where they work.
In the meantime, military brass is discouraging citizens groups from standing guard at recruiting centers, which are often found in malls and shopping districts.
"While we greatly appreciate the support of the American public during this tragedy, we ask that citizens do not stand guard at our recruiting offices. Our continued public trust lies among our trained first responders for the safety of the communities where we live and work," said a statement from the U.S. Marine Corps of San Diego.
Fox News' Kyle Rothenberg, Matt Finn, Aalia Shaheed and Matt Fossen