CIA's Haspel can tap undercover work in Russian operations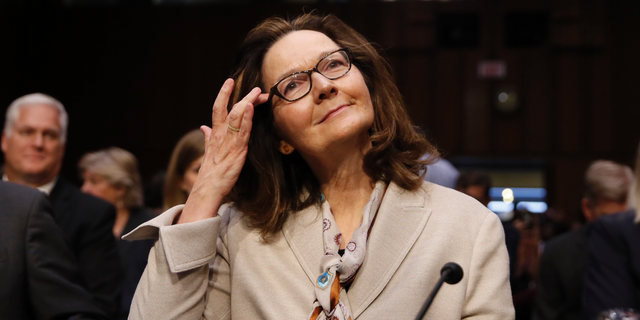 NEWYou can now listen to Fox News articles!
WASHINGTON – Scrutiny of the 33-year spy career of new CIA director Gina Haspel has focused on her undercover role in the harsh interrogation of suspected terrorists, but she cut her teeth in intelligence operations against Russia.
She's sure to tap that latter experience as she takes over at the nation's premier intelligence agency at a time of rising tension with Moscow. President Donald Trump has characterized it as worse than during the Cold War, and it's been aggravated by investigations into Moscow's interference in the election that brought Trump to power.
The 61-year-old Haspel, confirmed by the Senate this past week as the CIA's first female director, began her career in the mid-1980s when the Soviet Union was in its twilight. Even after the communist power disintegrated, U.S. and Russian spy services held to Cold War mode. Haspel worked in the shadows to counter Kremlin efforts to infiltrate the U.S. government.
Russia has been a priority target throughout her career. That was clear when former Sen. Evan Bayh, D-Ind., introduced Haspel at her Senate hearing: "She is a clear-eyed, hard-nosed expert on Russia," he said.
Haspel, an Air Force brat from Ashland, Kentucky, joined the CIA in January 1985 when she was 28. At the time, then-CIA Director William Casey was working to counter Soviet expansion, curtail Moscow's influence, win the Cold War, and bolster up U.S. intelligence operations.
She didn't become a reports officer, analyzing information from the field; that was the most likely career track for a woman in the CIA at that time. Instead, Haspel chose to be a case officer out in the streets, meeting assets and collecting intelligence.
Details of Haspel's career are sketchy because much of it remains classified, including places where she was posted, but the CIA has provided an overview.
Her first posting was in Africa, where she had a memorable encounter with Mother Teresa. On her return, Haspel spent time learning Russian and Turkish.
By then, the Berlin Wall had fallen and the Soviet Union was about to break apart. Frosty relations between Washington and Moscow warmed. Within a few years, President Bill Clinton was trading jokes with Russian leader Boris Yeltsin in what was dubbed the "Boris and Bill" show. But the CIA saw a continuing threat from Russian intelligence.
"The Soviet Union collapsed, but their intel services did not collapse," said former senior CIA official Dan Hoffman, who knows Haspel well and agreed to talk to The Associated Press about her career. "They were still running penetrations of the U.S. government."
The CIA also knew it had a KGB mole in its midst, but it wasn't until February 1994 that Aldrich Ames was arrested. The turncoat had disclosed the names of Russians who had been helping the CIA. Several were later executed.
The arrest of Ames and other double agents underscored the need for a strong counterintelligence capability "and that means recruiting Russians," said Hoffman, who was finishing his first tour in Moscow when Haspel was working in Russian operations. "That was what we were doing."
Haspel would go on to serve as deputy group chief of Russian operations in the CIA's Central Eurasia Division, which manages Russian spy cases around the world and efforts to target and develop potential sources, according to John Sipher, who replaced Haspel in that position.
Those involved in Russian operations at the end of the 1990s had a front row seat to a time of great transition in Russia, said retired senior CIA official Mark Kelton, who also worked with Haspel on Russia. Vladimir Putin, a KGB agent, had moved to Moscow, becoming acting president of Russia on the last day of 1999 when Yeltsin resigned.
"Russia is a formidable, strategic challenge now so understanding where these people came from and how they got where they are is crucially important," Kelton said. "The Russian services remain the most professional adversaries we face."
In all, Haspel has spent 17 of her 33 years in the agency overseas. Kelton said her ability to synthesize information quickly was "quite impressive" and she also ably handled the "rough school" of Russian operations.
"There wasn't a lot of wasted time on small talk," Hoffman said about Haspel's demeanor. "That's not her style. She was just right down to business — let's get the job done."
In addition to Russia, Haspel also was deeply involved in the CIA's fight against terrorism.
As station chief in an undisclosed country in Eurasia, she helped in the successful arrest of two al-Qaida associates linked to 1998 bombings of U.S. embassies in Kenya and Tanzania that killed 158 people, including 12 Americans.
Their capture also led to the seizure of computers containing details of a terrorist plot, according to a U.S. intelligence official with knowledge of the incident. The official was not authorized to publicly discuss the case and spoke only on condition of anonymity.
After 9/11, Haspel joined the CIA's Counterterrorism Center, and it was during this time that she supervised a secret site in Thailand where suspected terrorists were subjected to harsh interrogation, including waterboarding, which simulates drowning. Her work in the program drew impassioned protests from human rights activists and other critics and made her confirmation vote the closest for any CIA director in seven decades.
One of the detainees at that site was Abd al Rahim al-Nashiri, a Saudi accused in the bombing of the U.S. Navy destroyer Cole off the coast of Yemen that killed 17 American sailors. Al-Nashiri is aware that Haspel was picked to lead the CIA, according to Dr. Sondra Crosby, who met with him this past week at the U.S. military prison at Guantanamo Bay, Cuba, where he's been detained since 2006.
Crosby, who has treated 20 people tortured in the fight against terrorism, including two at CIA secret sites, is happy that Haspel has pledged not to allow the CIA to engage in the use of such harsh interrogation techniques again. Still, she's wary.
"Mr. al-Nashiri is probably the most severely damaged person I've ever seen," Crosby said, adding that he continues to have chronic nightmares and recurrent flashbacks.
"I've been really struck about just how his trust in humanity has been fractured," she said. "I don't think he'll ever recover."