CIA Looks for New Clues on Al Qaeda Trail, Reviews Evidence From Bin Laden Compound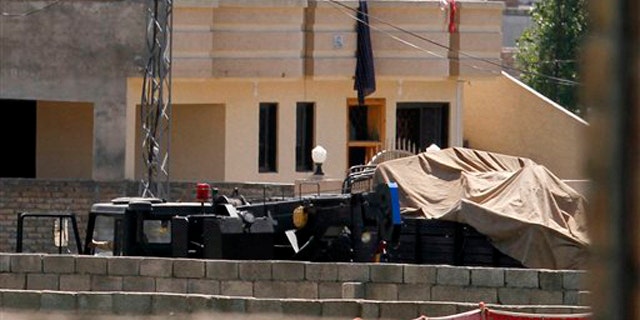 Usama bin Laden's body sank to the bottom of the Arabian Sea Monday morning after he was buried in accordance with Islamic practice.
But while his death marked the end of one counterterror mission -- a big one -- it could unlock new clues as intelligence analysts start to review the materials captured at bin Laden's Pakistan compound during the raid.
Along with bin Laden's body, electronics and hard drives were seized by U.S. forces following the firefight Sunday afternoon.
They have started to arrive at the CIA's Virginia headquarters, officials said. They described the cache as a "volume of materials" that will be "exploited and analyzed" at CIA headquarters.
It's unclear what kinds of information the files might contain. Intelligence officials spent years tracking the threads of information that eventually led them to the courier that led them to bin Laden's compound. But officials have said the successful mission Sunday is only one step in the ongoing fight against Al Qaeda and its affiliates.
White House counterterrorism adviser John Brennan, without going into detail, said Monday that analysts are in the process of reviewing the materials they obtained on site, to determine the next step.
"We feel as though this is a very important time to ... take advantage of the steps of yesterday and to continue to work to break the back of Al Qaeda," he said. Asked about the cache of evidence, he said: "It's not necessarily quantity. Frequently, it's quality."
Brennan said he hopes the U.S. can also "take advantage" of this moment and convince people in the region that Al Qaeda is a thing of the past. "We're hoping to bury the rest of Al Qaeda along with bin Laden," he said.
He said bin Laden's apparent successor, Ayman al-Zawahri, is not the kind of charismatic leader bin Laden was and suggested Al Qaeda's message is losing traction in the region, particularly given the uprisings occurring across the Middle East.
"Bin Laden's dead. The Al Qaeda narrative's becoming increasingly bankrupt," he said. "This is a strategic blow to Al Qaeda."
But noting one very significant loose end, Brennan said the U.S. was pursuing all possible leads to find out how bin Laden was able to hide out in a sprawling compound a short drive from the Pakistani capital.
One official said bin Laden was "living rather comfortably" in that compound.
On the day of the raid, he was found with one of his wives in the main house. Brennan said that if U.S. forces had the opportunity to take him alive, "we would have done that." But he and other officials said bin Laden resisted.
Senior defense and intelligence officials said bin Laden was killed toward the end of the 40-minute raid by CIA-directed Navy SEALs. Bin Laden's code name during the raid was "Geronimo," according to a U.S. official. The Al Qaeda leader was shot above his left eye and the bullet blew away part of his skull.
After U.S. forces killed him and took his body, they prepared the body for burial early Monday morning. His body was washed and wrapped in a white sheet before being placed on a board and "eased into the sea" at 2 a.m.
Officials said there was no alternative to a sea burial. "There was no country willing to take him," one official said.