Christian college places professor who wore headscarf on leave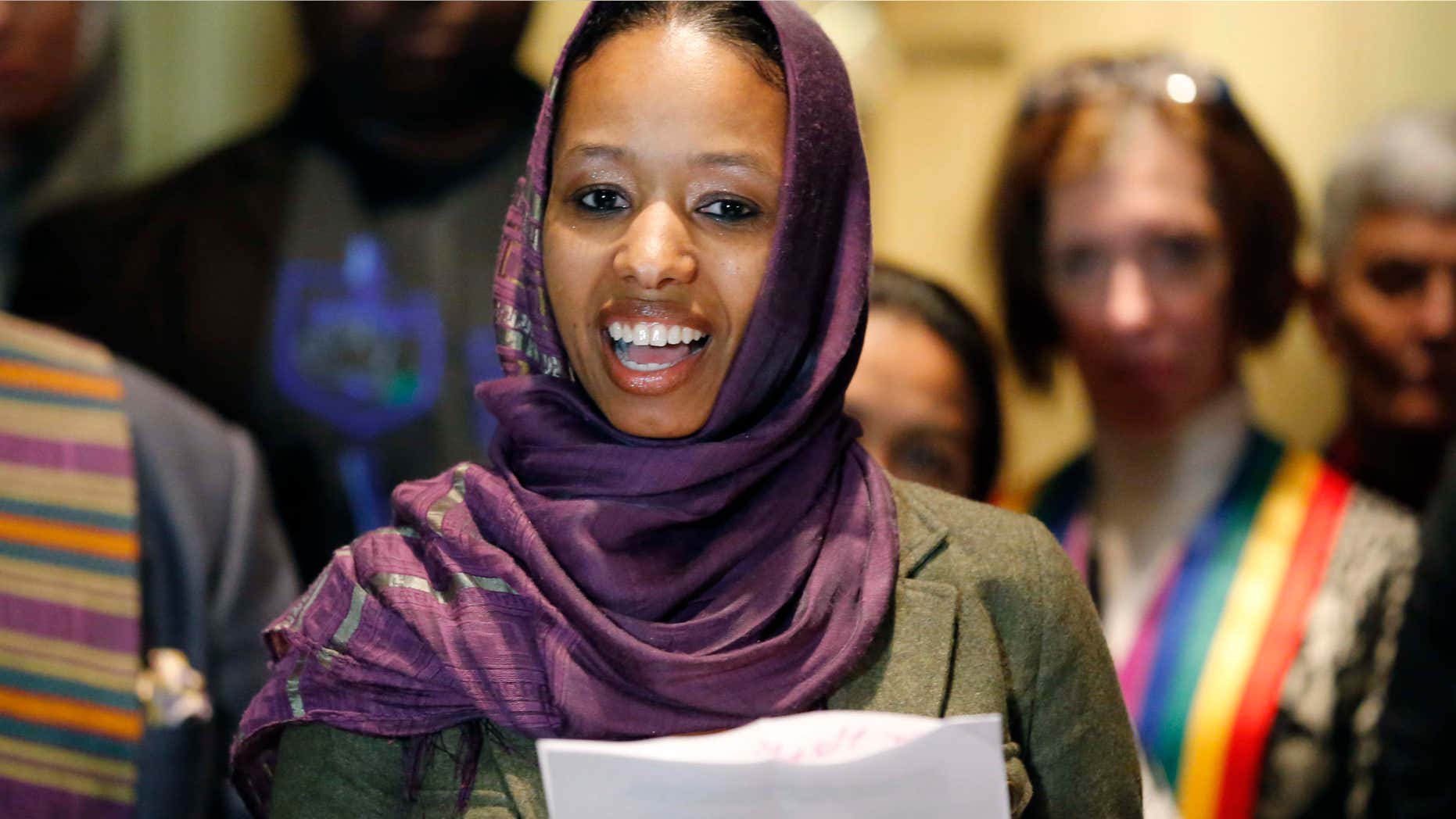 A professor at an Illinois Christian college was placed on leave Tuesday after wearing a headscarf to show solidarity with Muslims.
Larycia Hawkins, who is a Christian and an associate professor of political science at Wheaton College in suburban Chicago, said Wednesday that her actions were demonstrations of her own faith. Hawkins began wearing a hijab to counter what she called the "vitriolic" rhetoric against Muslims in recent weeks.
"In the spirit of Advent, my actions were motivated by a desire to live out my faith. Period," Hawkins said Wednesday at a news conference at a Chicago church. Advent is the season leading up to Christmas.
Hawkins said she felt it was important to show solidarity with Muslims who may feel threatened after the terror attacks in Paris and San Bernardino, Calif., as well as GOP presidential frontrunner Donald Trump's calling to block Muslims from entering the U.S.
"Theoretical solidarity is not solidarity," the tenured faculty member said.
The college said in a statement Tuesday that it placed her on leave because of statements she made on social media about similarities between Islam and Christianity.
"In response to significant questions regarding the theological implications of statements that Associate Professor of Political Science Dr. Larycia Hawkins has made about the relationship of Christianity to Islam, Wheaton College has placed her on administrative leave, pending the full review to which she is entitled as a tenured faculty member," the statement read.
In its written statement the college said it had "no stated position" on the wearing of headscarves as a gesture of care and concern. But it also said that "overtures of Christian friendship must be enacted with theological clarity as well as compassion."
The school insists that Hawkins' suspension doesn't reflect on her desire to wear the headscarf, but rather the explanation she gave as to why she was wearing the headscarf.
The Chicago Tribune reports Hawkins said on social media that Christians and Muslims share the same God, despite some differences between the religion.
"I stand in religious solidarity with Muslims because they, like me, a Christian, are people of the book," Hawkins wrote on Friday. "And [as] Pope Francis stated last week, we worship the same God."
While Hawkins had received some support from her colleagues, Denny Burk, a biblical studies professor at the Southern Baptist Theological Seminary in Louisville, Ky. told the newspaper that Hawkins didn't clarify her statement well enough and claimed she denied Christian teachings.
"We're people of the book, but our books are very different. They're witnessing to two different ways of salvation. The Bible is witnessing to Jesus Christ, the son of God. That's unique of all the world religions, and that uniqueness was what I thought was missing from what she said," Burk added.
Hawkins' suspension will last through the spring semester and sparked protests on the Wheaton College campus from students who called for her reinstatement, according to the Tribune. Christian leaders also supported Hawkins at a news conference Wednesday.
Hawkins also told the news conference "I affirm the creeds of the church," and added that she hopes for an amicable resolution with the college.
The Associated Press contributed to this report.