Chinese destroyer made 'unsafe and unprofessional move' toward USS Decatur in South China Sea, official says
A Chinese destroyer ventured within 45 yards of a U.S. Navy ship sailing near disputed islands in the South China Sea on Sunday, undertaking what one U.S. official called "an unsafe and unprofessional maneuver" and one likely to ratchet up tensions in the region.
The Chinese warship approached the USS Decatur near Gaven Reefs in the South China Sea, U.S. Pacific Fleet spokesman Lt. Cmdr. Tim Gorman said Tuesday. The Chinese destroyer came closer than half a football field from the Decatur's bow, forcing the U.S. ship to maneuver to avoid impact, Gorman said.
The Chinese ship "conducted a series of increasingly aggressive maneuvers accompanied by warnings for Decatur to depart the area," Gorman said.
The USS Decatur, a guided-missile destroyer, was conducting a freedom of navigation operation in in the South China Sea, a U.S. defense official told Fox News in a statement. The operation was conducted to "uphold the rights and freedoms of all states under international law. Decatur sailed within 12 nautical miles of Gaven and Johnson Reefs in the Spratly Islands," the official said.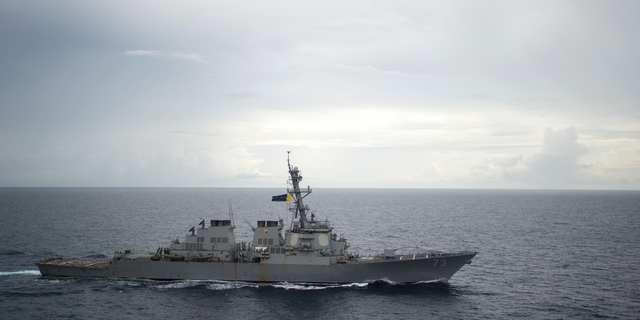 China claims the rights to most of the strategic waterway and has built man-made islands on reefs and equipped them with airstrips, radar domes and missile systems.
China opposed the U.S. warship's entry into the waters around the reefs, the Chinese defense ministry said in a statement Tuesday. Chinese officials confirmed it sent the Luoyang to drive the USS Decatur away and urged the U.S. to stop its "provocative" actions.
The latest incident in the South China Sea follows a series of diplomatic standoffs between the world powers.
Last week, China announced it would not allow a large U.S. warship to visit Hong Kong next month. On Wednesday, the U.S. Air Force flew nuclear-capable bombers near China in the East China Sea, which Beijing called "provocative" despite flying in international airspace. China also yanked its top admiral from Newport, R.I., last week days before he was set to meet his American counterpart.
Recent tensions come as the Trump administration has slapped additional sanctions on $200 billion in Chinese goods in recent days and taken the additional steps to sanction China over its purchase of Russian fighter jets and advanced surface-to-air missiles.
Though U.S. Defense Secretary Jim Mattis played down recent disputes with China, a senior defense official told Fox News on Monday that Mattis would not be going to China, as had been previously planned. Chinese officials rescinded the invitation, the U.S. official said.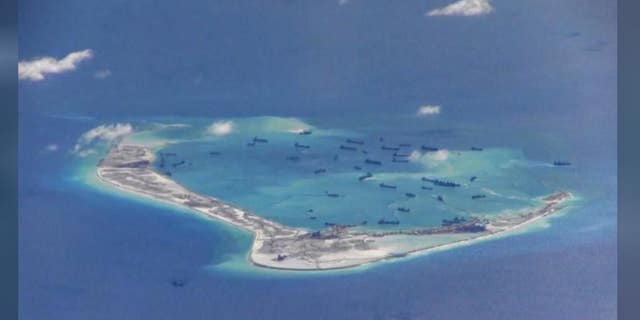 At the United Nations last week, President Trump accused China of meddling in the upcoming U.S. midterm elections in November.
"They do not want me or us to win because I am the first president ever to challenge China on trade. We are winning on trade. We are winning at every level," Trump said at a U.N. Security Council meeting with Chinese Foreign Minister Wang Yi seated nearby.
In his annual address to the U.N. General Assembly, Trump said China's trade policies "cannot be tolerated" anymore.
"We have racked up $13 trillion in trade deficits over the last two decades, but those days are over. We will no longer tolerate such abuse, we will not allow our workers to be victimized, our companies to be cheated and our wealth to be plundered and transferred."
Two years ago, the U.S. military accused their Chinese counterparts of stealing two American underwater drones in the South China Sea as the U.S. Navy operated them from a short distance away.  The Chinese returned the drones weeks later in boxes.
Despite the recent diplomatic flareups, the Trump administration has counted on China to help enforce sanctions on North Korea in a bid to get Kim Jong Un to scrap his nuclear weapons program.
Fox News' Lucas Tomlinson and the Associated Press contributed to this report.