Child abuse on planes can create 'gray areas' for airlines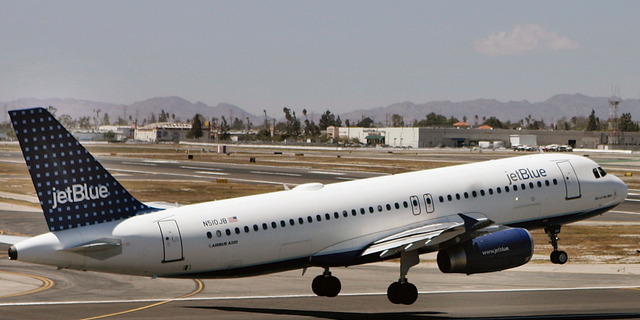 LAS VEGAS – Flight crews can restrain passengers or even divert flights when violent behavior erupts midair, but when the situation involves a parent potentially abusing a child, the decisions are not so clear cut.
A 5½-hour JetBlue flight earlier this month continued to its final destination after three passengers reported a mother mistreating her 8-year-old son, including grabbing him by the neck and shoving him against a window as he cried.
The same day, the airline diverted a flight to Las Vegas after a man reportedly hit and bit other passengers.
The airline did not respond to requests for comment on the incident involving the child, and a federal complaint against the mother does not say whether the flight attendant who received the passenger complaints intervened.
While it may vary by airline, flight attendants are trained in how to de-escalate violent situations under widely accepted procedures, and it is likely that JetBlue concluded it was safest to leave the mother and son together and not disrupt the flight, aviation experts say.
"This is certainly a very unpleasant situation, but it is one that is full of, if you will, gray areas, as opposed to a black-and-white type of situation," said Henry Harteveldt, a travel industry analyst.
"The challenge is that if you separate the parent from the child, it could elevate the anxiety between the two," he said. "If the flight attendants were to physically restrain the mother, that too could exacerbate the anxiety in the child by seeing his parent restrained and possibly in harm."
A misdemeanor complaint filed in U.S. District Court accuses Cherice Dawn Klipfel of assaulting her son during the flight from Boston to Salt Lake City on Dec. 10. Her attorney did not return a call seeking comment.
A woman sitting next to Klipfel told an FBI agent that she saw the mother strike, slap, kick and shove her son, who had a window seat.
"Each violent episode would be followed by a loving period where (Klipfel) would calm down and they would sit without a problem," according to the complaint. "(Passenger) was adamant that the violence (Klipfel) was committing against (son) was absolutely not parenting but abuse and assault. (Passenger) described (Klipfel) striking and shoving (boy) while (boy) pleaded for her to stop."
The complaint says two other passengers saw Klipfel "tightly cover" her son's face and "shake him aggressively" while the boy cried.
The airline faced another midair disturbance that day, when a passenger going from Los Angeles to New York had to be restrained after hitting and biting others, according to cellphone video shared with a TV station. Officers met the plane after it was diverted to Las Vegas, but no police report was taken and no arrest was made.
Sara Nelson, international president of the Association of Flight Attendants-CWA union, said many factors play into a decision to divert a flight, including whether the violent behavior has stopped and how quickly the aircraft can secure a landing spot at an airport.
She added that flight attendants know to intervene to try to stop violent behavior by giving clear verbal commands, restraining a person or separating passengers regardless of their relationship.
"Bottom line, the actions of the mother in assaulting her son would create a very high level of threat," Nelson said. "This goes beyond the relationship between the mother and son. This is a passenger that is acting violently against another passenger in a small space where people cannot get away and situations can escalate quickly."
A grand jury on Wednesday returned a misdemeanor indictment against Klipfel of Lakewood, Colorado. She has been released from custody, and her trial on an assault charge is scheduled for February.
Janet Rosenzweig, executive director of the American Professional Society on the Abuse of Children, praised the three passengers who complained to the flight attendant. She said it's difficult for some to intervene to help a child because Americans believe it is against social norms.
"If you ask people, 'Would you intervene if you saw a child being abused?' The majority of people say they would. But if you ask them, 'Would other people intervene?' The majority of people think the rest of the world wouldn't," she said. "The good news is that people were willing to stand up and try to help a child."