Chicago police chief blames city violence on lenient judges and prosecutors
The superintendent of Chicago's beleaguered police department shifted the blame for the city's gun violence epidemic from the cops to the courts, blaming judges and prosecutors who refuse to jail repeat offenders arrested with illegal firearms.
Supt. Eddie Johnson, speaking on Monday at Chicago Police Headquarters, said his department can "only do so much," but noted "it doesn't take a rocket scientist to figure out why shootings continue to be a problem in Chicago."
"These shootings are not random," Johnson said. "They're fueled by gang conflicts. We know who they are.
He added: "If people don't give us the information we need, and our judicial partners don't hold them accountable, would you stop if that's what you wanted to do? You know, it's ridiculous."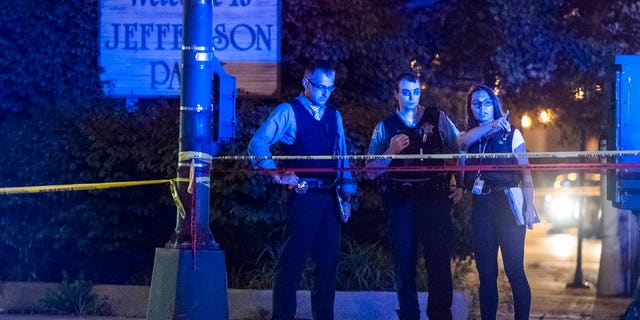 FOUR PEOPLE KILLED, NEARLY 60 SHOT THIS WEEKEND ACROSS CHICAGO
Johnson spoke in the aftermath of Chicago's second bloodiest weekend of the year, with 58 people shot and seven killed, according to FOX32 Chicago. The stunning numbers came despite a deployment of more than 600 additional officers to the neighborhoods hardest hit by the bloodshed.
On Saturday night, three people were shot and another person was beaten at a back-to-school peace picnic held at a playground. Elsewhere, two boys, ages 16 and 17, were found shot dead in a Far South Side field days after their mothers reported them missing.
Johnson, who has called for tougher punishment in the past for those convicted of firearms offenses, said "as long as we fail to create repercussions for carrying and using illegal guns, or more importantly, hold repeat violent offenders accountable for their actions, we're simply going to continue to have these discussions on Monday mornings."
The chief's comments come after Democratic Mayor Rahm Emanuel came under fire for appearing to blame a lack of morals in predominantly black and Hispanic neighborhoods for the ongoing violence.
Emanuel, who is facing growing calls to resign from members of his own party, urged locals at an Aug. 7 press conference to "be a neighbor" and "speak up" to help law enforcement.
AMID GUN VIOLENCE, ALL FIVE CHICAGO PRO SPORTS TEAMS FUNDING THERAPY, MENTORING PROGRAM FOR AT-RISK YOUTH
"This may not be politically correct," he said. "but I know the power of what faith and family can do...Our kids need that structure...I am asking...that we also don't shy away from a full discussion about the importance of family and faith helping to develop and nurture character, self-respect, a value system and a moral compass that allows kids to know good from bad and right from wrong."
Meanwhile, two officers are being investigated after an image of them sleeping in their vehicle during work hours went viral.
The picture was posted Saturday by mayoral candidate and Black Lives Matter activist Ja'Mal Green, who blamed the officers' seeming exhaustion on mandatory overtime ordered my Emanuel.
But the Chicago Police Department said the officers were not working overtime, and were not overworked or burned out. Police spokesman Anthony Guglielmi said they will be disciplined.
Fox News' Barnini Chakraborty contributed to this report