Chicago police brace for unrest after Van Dyke verdict: 'We have some long days…ahead of us'
Closing arguments and jury instructions are expected Thursday in the high-profile murder trial of former Chicago police officer Jason Van Dyke, who's charged with first-degree murder in the death of 17-year-old Laquan McDonald, who was shot 16 times in 2014.
The shooting was captured on police dash camera video and sparked years of racial tension and civic unrest in the city of Chicago and is even considered part of the reason Mayor Rahm Emanuel recently and suddenly announced he would not run for re-election.
Activists have already pledged to protest in Chicago regardless of the Van Dyke verdict. At least one notable activist, William Calloway, has repeatedly asked for peace in the streets but said protesters will "shut the city down" after the verdict. He's also asking public transit workers not to show up to work if they don't favor the verdict.
In an email obtained by Fox News, Chicago Police Superintendent Eddie T. Johnson wrote to the entire police force that "we have some long days and hours ahead of us – to that, I say officer safety is paramount. Look out for one another. Look out for you, your partner, and your police family."
The police department is enacting a "post-trial operation" in which officers will work 12-hour shifts citywide and officers will have no days off.
Chicago police spokesperson Anthony Guglielmi told Fox News the department has been holding regular meetings with the mayor and activists and that there is no indication of organized civil disobedience.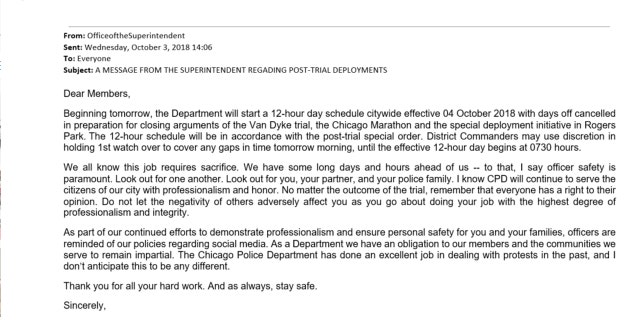 "I can say that we have a very robust plan that is layered and allows us to marshal resources very quickly. This includes the ability to put officers on 12-hour days, cancel regular days off and deploy community support and stabilization resources," Guglielmi said in an email.
A flyer discovered near the courthouse encourages anti-police extremists to gather after the verdict is read.
"If they free the killer cop," the flyer said, "the city must stop."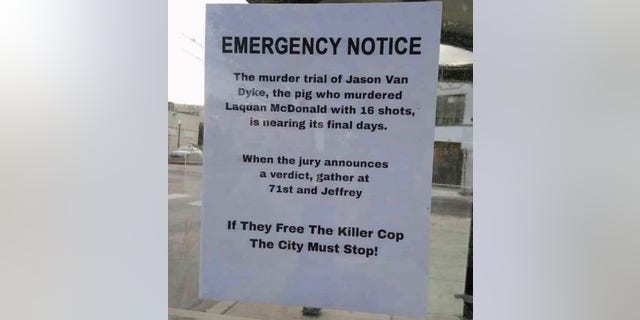 During the ongoing trial in Chicago, Van Dyke's attorneys have argued that on October 20, 2014 McDonald was on a rampage on the southwest side of Chicago and high on PCP when he broke into a truck yard and attempted to stab a trucker.
Van Dyke testified that he and his partner responded to calls for a stun gun and backup after McDonald punctured a police cruiser tire with his knife, stabbed the windshield and denied commands to drop his knife. Van Dyke testified that McDonald was closing in on him with the knife when he shot him in self-defense to protect himself and fellow officers.
The prosecution has argued the use of deadly force was not justified and that Van Dyke was the only unreasonable officer on the scene that night that rapidly chose to shoot McDonald, who was armed with a three-inch knife.