Chicago cop reprimanded for criticizing kneeling NFL player: 'I stand for the anthem'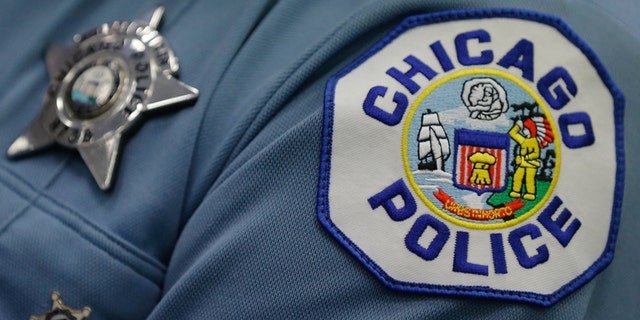 A Chicago police officer was reprimanded on Wednesday after he injected himself in the NFL kneeling controversy by posing with an American flag and a sign that said: "I stand for the anthem."
Officer John Catanzara posted the photo of himself on social media while he was in uniform and standing in front of a marked police SUV.
"I stand for the anthem, I love the American flag," the sign he held said. "I support my president and the 2nd Amendment."
All words in the poster are in black except "president," which is in red.
Chicago police spokesman Anthony Guglielmi told the Chicago Tribune that Catanzara was reprimanded for violating department rules that prohibit officers from participating in any partisan political campaign while on duty.
Catanzara was the third Chicago police officer reprimanded this week for speaking out on the growing NFL controversy.
His post came just days after two other uniformed officers from the department were under fire for sharing a photo on social media of them kneeling and raising their fists inside a police station. The activist who shared that photo, Aleta Clark, said it was to support former San Francisco 49ers quarterback Colin Kaepernick, who protested police treatment of minorities by refusing to stand during the national anthem last season.
"The department will remind all officers about the department's prohibiting political statements while on duty through a roll call training," the police department said in a statement Wednesday.
The photo posted on Catanzara's personal Facebook page was shared more than 140 times before it was made private Wednesday afternoon.
According to NBC Chicago, other posts on the officer's page included inflammatory language about Muslims and criticism of protesters, government and former President Barack Obama.
The department said the officers should not be publically expressing their political views while in uniform.
"The rules prohibiting officers from making political statements while in uniform will be applied consistently," Guglielmi said.
The photos were posted amid a nationwide uproar as 200 NFL players knelt or sat during the national anthem Sunday and Monday night.
President Trump has been critical of the protests, even urging owners to fire any player who kneels during the anthem.
In an exclusive interview with "Fox & Friends" on Thursday, the president said NFL owners are "afraid" to act against their players.
"The NFL is in a box and they have to do something about it," Trump said in an interview that aired Thursday morning. "I think they're afraid of their players, if you want to know the truth."
He then suggested the league should apply new rules to those who protest the anthem by kneeling.
"They have rules for everything – you can't dance in the end zone, you can't wear pink socks relative to breast cancer – they have rules for everything," Trump added.