Charlottesville vigil honors victims one day later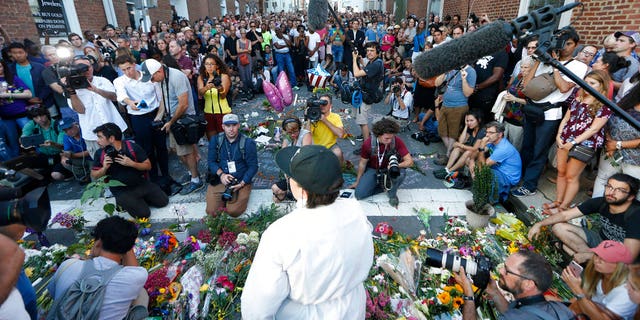 A vigil took place Sunday evening at the spot in Charlottesville, Va., where a car drove into a crowd of protesters, which left 32-year-old Heather Heyer dead, and 19 others injured.
A crowd gathered in the area and sang "Amazing Grace." Mourners prayed around the piles of flowers that had been placed around the place where Heyer was killed.
Marcus Martin, a friend of Heyer's who was protesting the white supremacist rally on Saturday, told Fox News he was hit by the car, thrown through the air and ultimately injured, after he pushed his fiancée out of the way.
Martin called out President Trump, saying the crash was a "terror attack. It's a hate crime and Donald Trump won't call it that because it's what he believes in." He added the fallout from yesterday's events is "hard to cope with."
"Racism is real, still lives among us," Martin said.
Still, he added that what happened in Virginia will never be overlooked.
Heyer was killed and 19 others were injured after accused driver James Alex Fields, Jr., 20, of Ohio, drove a car into a crowd of protesters at Saturday's "Unite the Right" rally.
Cities around the U.S. Sunday evening are holding vigils in honor of those who died and were injured in Charlottesville.
Fox News' Jason Donner and Ellison Barber and The Associated Press contributed to this report.