Chantek, sign-language speaking orangutan, dies at age 39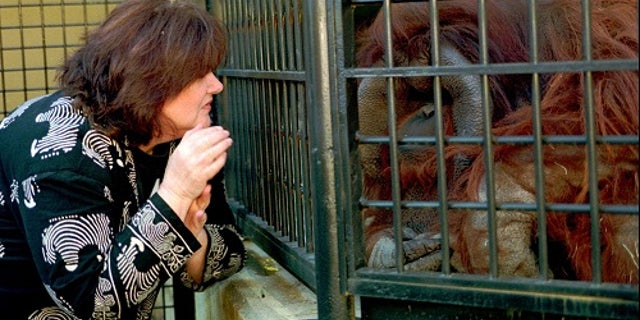 Chantek, an orangutan who became one of the first apes to communicate with researchers using sign-language, died Monday at an Atlanta Zoo. He was 39.
Zoo Atlanta announced the orangutan's death on its website. Chantek's cause of death is not immediately known, but the zoo said veterinarians had been treating him for progressive heart disease.
Chantek arrived at Zoo Atlanta in 1997 at the age of 19. He was born at Atlanta's Yerkes Language Research Center and spent nine years living with researchers at the University of Tennessee-Chattanooga. At the university, researchers taught the orangutan at least 150 words in American Sign Language. He was also taught other basic human skills such as using a bathroom and cleaning his room.
HEART-STOPPING MOUNTAIN LION ENCOUNTER IN CALIFORNIA WILDERNESS CAUGHT ON VIDEO
A 2014 documentary titled "The Ape Who Went to College" focused on Chantek and how he used sign language to ask for food.
Chantek was one of the few primates who used American Sign Language to communicate, according to the BBC.
The zoo said the orangutan used sign language frequently to interact with his caretakers but "he was shy about signing with individuals he did not know and often chose forms of communication which are more typical of orangutans, such as vocalizations and unique hand gestures."
"Chantek will be deeply missed by his family here at Zoo Atlanta," Hayley Murphy, vice president of Zoo Atlanta's animal division, said.
ORIGINAL 1954 GODZILLA ACTOR, HARUO NAKAJIMA, DEAD AT 88
She added: "He had such a unique and engaging personality and special ways of relating to and communicating with those who knew him best. It has been our privilege to have had him with us for 20 years."
A post-mortem exam of the ape is scheduled to be performed.
The Associated Press contributed to this report.