Change of plea hearing scheduled in Miss. for man charged with sending ricin-tainted letters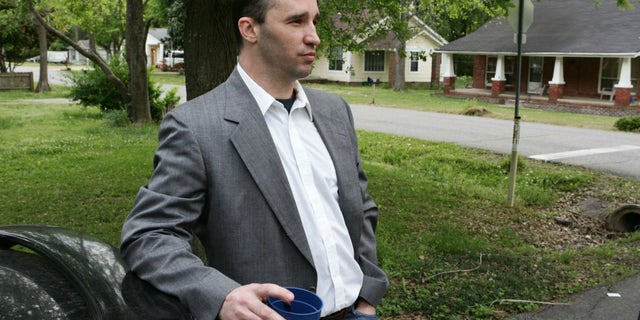 NEWYou can now listen to Fox News articles!
JACKSON, Mississippi – A change-of-plea hearing is scheduled for a man charged with sending poison-laced letters to President Barack Obama and other officials.
James Everett Dutschke is scheduled for a hearing in U.S. District Court in Oxford on Friday afternoon, according to court documents.
Dutschke, 42, previously pleaded not guilty and denied sending the letters. He also denied a later charge that, while incarcerated, he tried to recruit someone else to send a ricin-tainted letter.
Dutschke has been jailed since April on charges of sending ricin-tainted letters to Obama, Republican U.S. Sen. Roger Wicker, and a Mississippi judge. The judge was the only one to receive a letter, though she was not harmed. The letters to Obama and Wicker were intercepted.
Authorities first arrested Elvis impersonator Paul Kevin Curtis for allegedly sending the letters, which contained statements that Curtis had often used on his Facebook page, including the line, "I am KC and I approve this message." The letters also contained the phrase "Missing Pieces," the same title as an unpublished book Curtis wrote about his belief that there's a black market for body parts in the United States.
But charges against Curtis were dropped when the investigation shifted to Dutschke. Curtis says the men have feuded for years.
Dutschke is accused of trying to frame Curtis, both before and after Dutschke's own arrest. An indictment filed in November alleges that while incarcerated, he tried to recruit someone else to send a ricin-tainted letter.
According to the indictment, Dutschke wanted the latest letter to say: "It doesn't matter the Fife types have the wrong one. D. had to be sacrificed to show the corruption in the system. I tried to warn you. Ha. K."
Dutschke is a former martial arts instructor in the north Mississippi town of Tupelo, Elvis Presley's birthplace.
He faces up to life in prison if convicted of the most serious charge, the production of a biological weapon.
___
Follow Holbrook Mohr at http://twitter.com/holbrookmohr