Century-old Confederate time capsule opened in Florida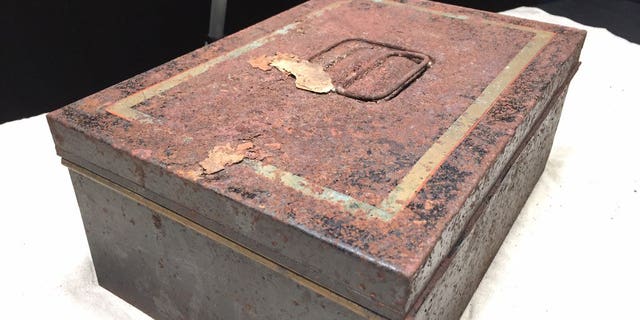 Florida historians on Tuesday unveiled the items locked in a century-old time capsule that was discovered hidden in the base of a Confederate statue in June.
Orlando's Historic Preservation Board discovered Confederate money, a letter from 1911, newspaper clippings and other historic documents in the rusted metal box, FOX35 reported.
"I'm surprised there's so much that's intact here," said Orlando Mayor Buddy Dyer, who was at the Tuesday unveiling.
Dyer added he had expected a "box full of dust."
US NAVY VETERAN WINS DISPUTE WITH HOMEOWNERS' ASSOCIATION OVER AMERICAN FLAG MAILBOX
The box also contained three newspapers, from the South Florida Sentinel, Orange County Citizen and the Daily Reporter-Star, dated 1911 -- confirming historians' belief the statue was installed that year. Some articles talked about old-fashioned chicken and waffle dinners.
The time capsule was discovered in June when officials moved the "Johnny Reb" statue at Lake Eola Park. Dyer announced plans to move the Confederate statue after an outcry from some residents and officials who said the monument only solidified racism and white supremacy, The Orlando Sentinel reported. Supporters of the statue argued it honored fallen soldiers.
The statue was moved to Greenwood Cemetery where a plot of land stands for Confederate soldiers. The statue is set to be reassembled.
The items will be processed, categorized and preserved for archive purposes, FOX35 reported.
CONFEDERATE FLAG DEBATE: PROTECTING HATRED PRESERVES FREEDOM
The city delayed opening the time capsule out of fear of damaging the contents in the box. The United Daughters of the Confederacy, an 1894 organization who claim members hid the time capsule in the statue, also took issue with city officials opening the treasure.
Patt Schnurr, a member of the organization, said the United Daughters of the Confederacy should have the right to open the time capsule.
"They are deliberately doing this," she told FOX35. "In other words, we have no say so in this."
The 94-year-old said "there is a statement in there that says the monument was put up in honor of the Confederate soldiers."
The United Daughters of the Confederacy filed a lawsuit in June in small claims court demanding the time capsule be returned to the organization.
Click here for more from FOX35 Orlando.