Caught on camera: Nebraska police nab teen for trying to swipe cat
Nebraska police said they have nabbed a young woman seen on surveillance footage trying to swipe an 8-year-old cat lounging on a house porch.
"The female picked Mo up and tried to leave with him," Lincoln police said Friday. "The female opened the car door and the fleet footed feline made his heroic escape as he leapt to the ground."
The tiger-striped tabby was unharmed and ran back to the porch, Fox 29 Philadelphia reported. Mo's harrowing tale unfolded on Wednesday.
Police said a tipster who saw the footage on local TV gave them the name of the 17-year-old suspect.
"The 17-year-old reported she was dared by a friend to steal the cat but did not intend to keep it," police said.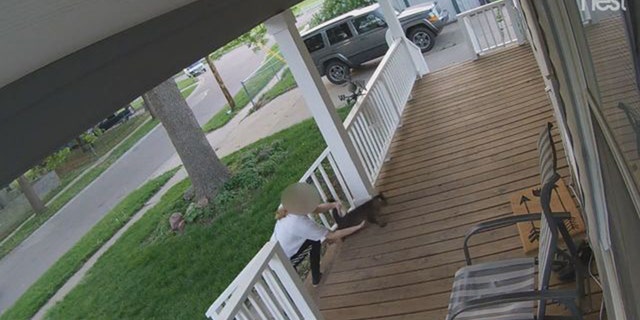 They said she was referred to the County Attorney for attempted larceny and trespassing.
Mo's owner, Samuel Evertson, told KLKN-TV that he installed the security camera only two months ago.
"I'm happy he knew something was wrong," he said of his pet. "He's an indoor cat so he doesn't have his front claws, so I was happy he found a way to get out of that."