Carjacking video shows victim clinging onto door as thief tries to speed off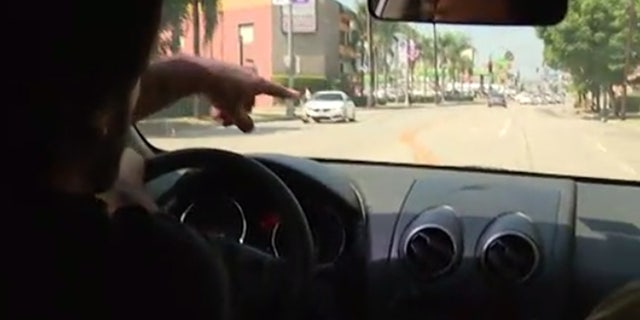 A man in California who had his car stolen while trying to fix another driver's flat tire has been caught on video being dragged along the road as the thief tried to speed away while he was clinging to the vehicle's door.
Reed Pellerin, a resident of Los Angeles' Silverlake neighborhood, told Fox 11 that he captured the startling footage while driving near his home Monday night.
"The guy was hanging from the car they had gotten into an altercation…like road rage," he told the station. "I thought it was road rage, a road rage situation, but it wasn't."
BALTIMORE OFFICER DRAGGED BY CAR DURING TRAFFIC STOP IS ABLE TO CHASE DOWN FLEEING SUSPECT
Police say the victim – who was not identified – had stopped along the road to help a stranded driver change a flat tire. The carjacker then apparently hopped inside the victim's car while it was unattended and took off.
The video shows sparks flying from the roadway as the victim's steel-tipped boots dragged along its surface. After about three quarters of a mile, the victim let go and was treated and released by medical staff at the scene.
Police eventually captured the alleged thief after spotting the car in another part of Los Angeles later that evening and he reportedly was taken into custody without incident.