Camper hangs 'precariously' from Florida overpass after crash
A camper ended up dangling from an interstate overpass in Florida on Thursday for several hours after a crash involving three vehicles, officials said.
The St. Petersburg Fire Rescue posted on Twitter there were no injuries in the crash on Interstate 275, but the camper was hanging "precariously over the guard rail."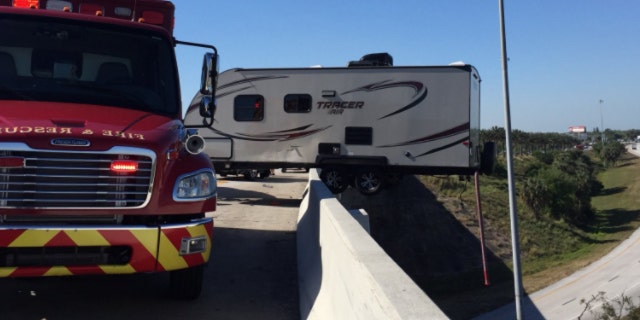 Video from highway cameras belonging to the Florida Department of Transportation and photos posted by rescue officials show the trailer's back wheels hanging from the overpass.
Officials set up a roadblock in the northbound lanes of I-275 through the area while attempting to secure the camper, according to FOX13.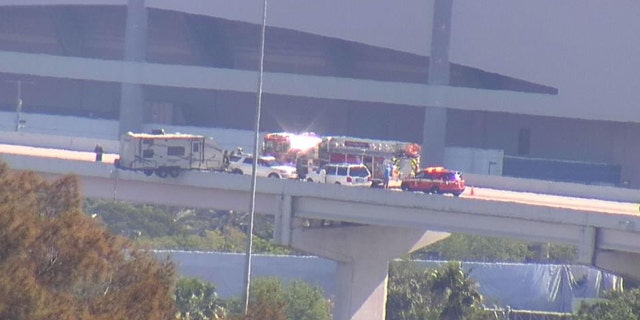 The Florida Highway Patrol told FOX 13 the crash happened around 11 a.m.
SNOW SQUALL CAUSES 81-VEHICLE PILEUP ON OHIO INTERSTATE
The crash happened near exit 22 in St. Petersburg, close to Tropicana Field where the Tampa Bay Rays play.
Video from FOX 13's SkyFOX showed that fire officials attached a bright yellow pulley to the tow-bar of the camper, holding it in place.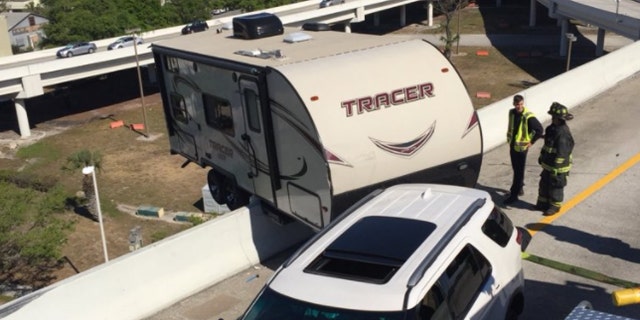 Authorities were eventually able to pull the trailer back onto the highway around 1 p.m.
The crash and resulting lane closures snarled traffic in the area as authorities investigated the incident.