Calmer winds slow down Arizona wildfire; evacuations still in place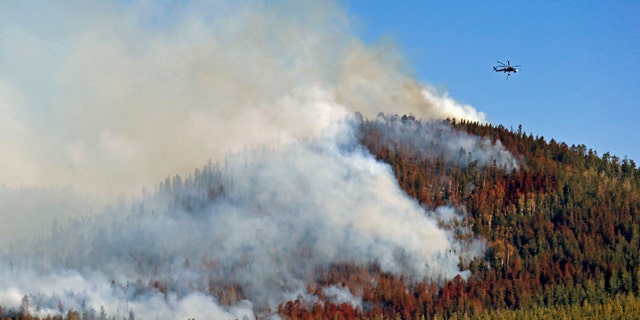 NEWYou can now listen to Fox News articles!
VERNON, Ariz. – A wildfire that has charred nearly 8 square miles in eastern Arizona's White Mountains was holding steady, though the human-caused blaze has not been brought under control at all, officials said.
The fire has not grown and crews have made headway with burnout operations and retardant drops as winds that have whipped the flames in recent days slowed, Bill Morse, spokesman for the Southwest Area Incident Management Team, said Saturday evening.
Communities mostly populated with summer homes remained under mandatory evacuation orders because of the fire about 135 miles east of Phoenix, near the New Mexico line, which was reported around noon Thursday. There have been no reported injuries, and no new evacuations or notices to be ready to flee have been issued.
A total of 37 summer homes in the Red Cabin Ranch, Carlock Ranch and Whiting homestead areas remained evacuated as a precaution, and authorities said more than 90 structures in three communities could be threatened. Those structures include homes, barns and sheds.
Morse revised estimates of the number of people who evacuated, saying 25 left the area southeast of Vernon.
Residents packed a community meeting Saturday evening, where incident commander Matt Reidy said forest-thinning work that has been done in the Apache-Sitgreaves National Forests helped firefighters.
But an area of mixed conifer that wasn't thinned has burned through, he said.
There are heavy fuel sources on the west side of the fire, which crews are targeting, Morse said. Although there is much fuel and rough terrain, winds are pushing away from the western flank.
"Nature has given us a little break," Morse said, adding winds are likely to be calm overnight and Sunday.
That reprieve comes ahead of problematic dry lightning storms that Morse expected Tuesday and Wednesday.
The fire remained zero percent contained, but crews are confident about the east and south flanks and plan to attack the blaze directly on the northeast side, where it had been spreading in previous days. Earlier, flames jumped containment lines on the eastern flank.
Nine Hotshot crews, 12 engines, five heavy air tankers and a helicopter were fighting the fire on part of the Fort Apache Indian Reservation and in the national forest.