California winery owner, investor die in apparent murder-suicide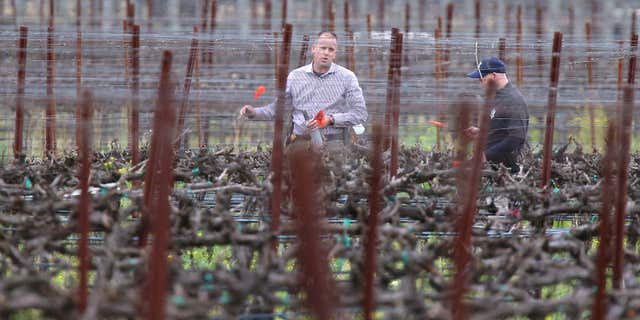 YOUNTVILLE, Calif. – A troubled winery owner who chased an investor through a Northern California vineyard and shot him in the head at close range as police approached had a silencer in his gun, which could signal the man planned the killing, police said.
As authorities headed to the scene, the owner of Dahl Vineyards, Robert Dahl, shot a fleeing Emad Tawfilis, who fell to the ground, Sheriff's Capt. Douglas Pike said.
Dahl then led police on a short chase that ended with his apparent suicide Monday.
Pike said the use of a silencer could mean Dahl intended to kill Tawfilis when he went to a meeting.
"It shows intent, going to that extreme. To me, it indicates somebody put some planning into it," Pike told the Santa Rosa Press Democrat newspaper.
Tawfilis had called 911 in a panic shortly before noon Monday, saying he was running through grapevines to escape a business partner who was firing at him from behind the wheel of an SUV, Pike said.
As authorities headed to the scene, Dahl shot the fleeing investor, who fell to the ground, he said.
Dahl, holding a .22-caliber semi-automatic handgun, got out of the vehicle, "walked up to the victim and appeared to execute him just as the deputies were arriving," Pike said.
The 47-year-old vintner returned to his vehicle and led police on a brief chase around Yountville. Authorities lost sight of him in the woods after he plowed through a gate. They found him minutes later, however, dead in the SUV, apparently from a self-inflicted gunshot wound, Pike said.
The 48-year-old Tawfilis was killed near Highway 29, gateway to the Napa wine region.
Dahl's attorney, Kousha Berokim, said the two men had been discussing a business disagreement. "The meeting was peaceful and held to develop a framework to resolve their dispute," he said. "There was certainly no indication of violence."
Dahl and Tawfilis had filed lawsuits against each other over a $1.2 million investment. Dahl said the interest Tawfilis was charging on the loan was illegally high. Tawfilis, meanwhile, said Dahl misused funds and fooled him into investing in defunct companies.
Berokim and David Wiseblood, Tawfilis' lawyer, participated in the settlement talks by phone. After about 20 minutes, the parties agreed to take a short break, and the lawyers hung up.
Shortly afterward, however, Tawfilis called police to the winery, saying he had been shot and was fleeing for his life.
Berokim said the shooting "was out of character" for Dahl.
Tawfilis, who lived in Los Gatos, "was a bright and principled man," Wiseblood said. "He went up to Napa to resolve this thing so he could get on with his life. Instead, he lost his life."