California wildfire expands, threatens wine country homes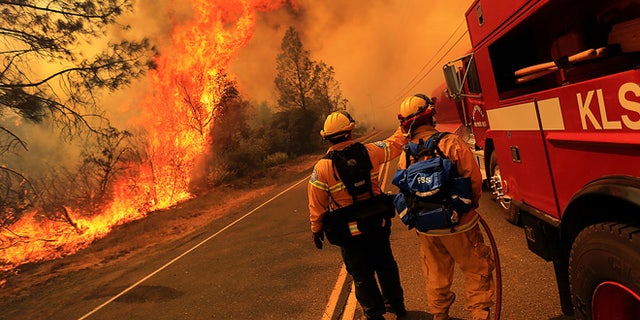 NEWYou can now listen to Fox News articles!
Crews worked Thursday to corral two wildfires that burned two homes in Southern California and has engulfed more than 5 square miles, forcing the evacuation of 200 homes in the rural north.
A fire that erupted around 10:30 a.m. prompted the mandatory evacuation of 200 homes in central San Diego County near the mountain town of Julian. News crews from KNSD-TV reported seeing two homes burning.
Firefighters attacked the 100-acre blaze in the air and on the ground.
There was no immediate word on what sparked the blaze.
The same area near Cleveland National Forest is where an 11-square-mile blaze destroyed more than 100 mountain cabins just a year ago.
Meanwhile, the fire in Northern California's Napa County grew to more than 6.5 square miles as the fire raced uphill. The steep and rugged terrain also forced firefighters to build containment lines without bulldozers, said Alicia Amaro, a spokeswoman for the California Department of Forestry and Fire Protection.
The fire was burning to the north, away from the county's famed vineyards.
Authorities said 16 county, state and tribal agencies are working to control the fire, KTVU.com reported.
No injuries have been reported, and the cause of the fire remains unknown.
The fast-moving blaze began Tuesday afternoon in Napa County. Within hours, it covered 600 acres and then spiked to 2,700 acres by late evening as it spread northeast. The blaze had scorched more than 4,300 acres by Thursday, state fire spokesman Daniel Berlant said. It has damaged nine structures, including the two homes.
"It has not come anywhere close to what we consider Napa Valley wineries," said Cate Conniff, a spokeswoman for the Napa Valley Vintners, a nonprofit trade association. "It is moving in the opposite direction, and it continues to move that way. We're keeping an eye out on it."
Residents in nearly 200 homes in a subdivision in the county's Pope Valley were allowed to return after an evacuation order was lifted Thursday afternoon but 180 others remained threatened, state fire officials said.
Despite the fire-containment level plateauing at 30 percent, the nearly 1,100 firefighters on the scene were making steady progress as temperatures climbed into the mid-90s, Berlant said.
However, "it's still growing at a faster rate than we can build containment lines. We're also seeing a bit of a warming pattern, and the winds are picking up as well," Berlant said. "This fire is taking a very aggressive run."
No injuries have been reported, and the cause of the fire remains unknown.
The fire exploded because of dry conditions across the state because of the drought, Berlant said. Officials are hoping for full containment early next week.
The Associated Press contributed to this report.