California man gets life in prison for 'near-decapitation' of wealthy boyfriend in crime judge calls 'shockingly evil'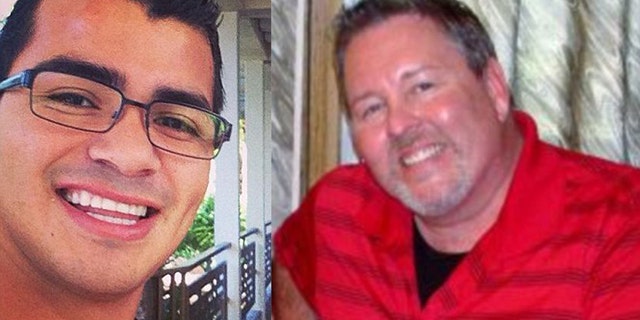 A 27-year-old California ex-porn star was sentenced Monday to life behind bars for brutally murdering his wealthy older boyfriend in 2015 in order to get his multi-million dollar inheritance.
In May, David Meza was convicted of domestic violence resulting in murder and conspiracy to obstruct justice in the gruesome slaying of Texan Jake Merendino, 51, who had been stabbed 24 times and had his throat slit before his body was dumped into a ravine near Rosarito, Mexico, according to authorities.
Meza was ordered to serve an extra 20 years in prison for the conspiracy to obstruct charge in addition to his life sentence. He has maintained his innocence and his defense lawyers argued there was no physical evidence linking him to the crime.
In a news release after Meza's sentencing, federal authorities described what he did to Merendino as a "near-decapitation," reports People.com
"The Merriam dictionary defines 'heinous' as hatefully or shockingly evil, abominable," U.S. District Judge Jeffrey T. Miller said at the hearing on Monday, reports People.com. "This murder was shockingly evil—excessively so."
BABYSITTER ALLEGEDLY KILLS TODDLER BY THROWING HIM AGAINST WALLS, FURNITURE TO MAKE HIM SLEEP
Authorities have said that the former escort and porn star killed his wealthy lover so he could inherit Merendino's $3 million estate and his $273,000 oceanfront condo. At the time of the murder, officials allege that Meza was living a double life that was unsustainable—he had a pregnant girlfriend named Taylor Langston while he was dating Merendino.
Langston pleaded guilty to one count of conspiracy to obstruct justice in San Diego federal court in February.
"Jake was a target," Merendino's friend Chuck Hart told People.com. "This was a cold-blooded killing for profit by a snake in the grass that deserves to rot."
Merendino grew up in Beaumont, Texas and inherited his fortune from his parents, who both worked for ExxonMobil.
The two men connected when Merendino hired Meza as an escort through an online ad while vacationing in San Diego in June 2013.
"He bought him sports cars and motorcycles," friend Donna Armani Pineda told People.com. "David didn't want for anything."
In the months before the murder, Merendino made Meza the beneficiary of his condo and wrote up a will on hotel letterhead in December of 2014 leaving him his fortune.