California law enforcement took away 54 so-called ghost guns last year from people who can't legally own firearms, a 38% jump in the number of the hard-to-trace weapons seized since 2021 under a unique state program, officials said Monday.
The ghost guns, which are privately made firearms without a serial number, were part of nearly 1,500 guns taken statewide last year through an only-in-California program called the Armed and Prohibited Persons System, known as APPS.
The California registry cross-matches databases to find people who legally purchased weapons but are now banned from ownership because they have been convicted of felonies or a violent misdemeanor, or have a history of domestic violence or mental illness. State and local authorities then can move to seize the weapons under the program, which began in 2006.
Generally, firearms manufactured by licensed companies are required to have serial numbers that allow officials to trace the gun back to the manufacturer, the firearms dealer and original purchaser. That's how the registry can find the people who are prohibited from having guns, as well as the weapons linked to them.
BIDEN ANNOUNCES RULE MAKING 'GHOST GUNS' ILLEGAL AS PART OF COMPREHENSIVE GUN CRIME STRATEGY
Ghost guns, however, are made of parts and are then assembled together — without the serial numbers that can be used to follow the gun's path. Law enforcement working to find the legal firearms listed on the state registry coincidentally found the ghost guns and seized those as well.
The number of ghost guns discovered by law enforcement through their APPS work has jumped dramatically in recent years. In 2018, officials seized just eight ghost guns through their work on the registry, Attorney General Rob Bonta's office said.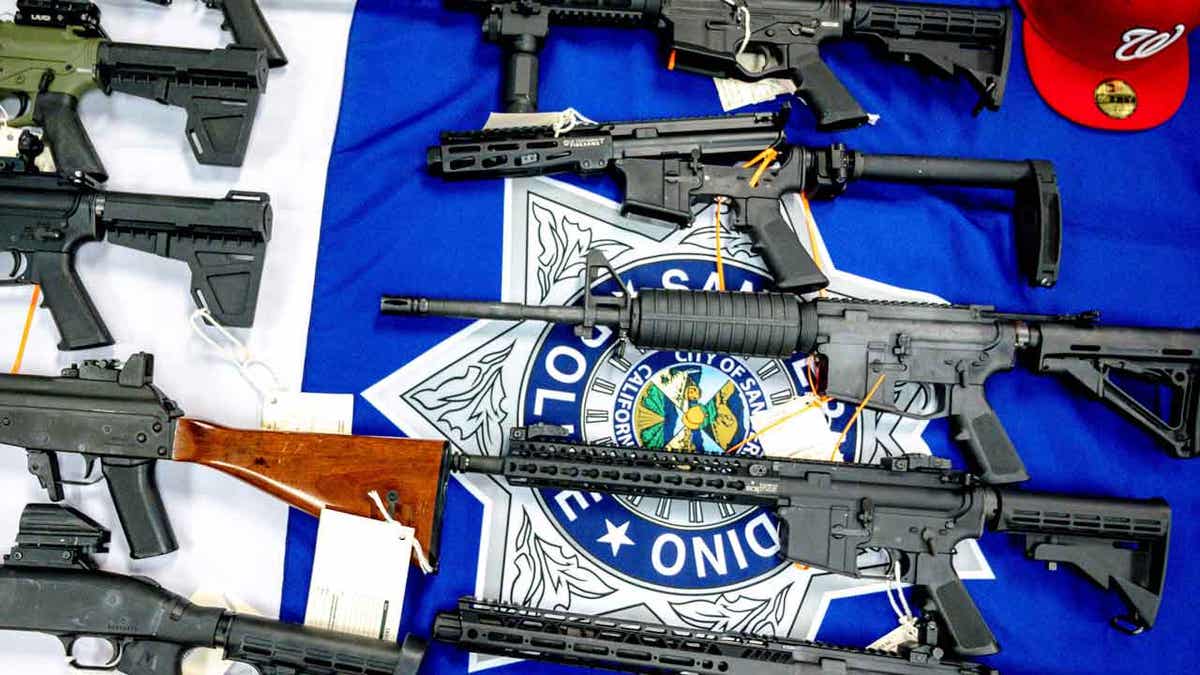 Bonta has ordered the state's Department of Justice to focus more on ghost gun investigations in general after years of increased illegal activity.
BIDEN ADMINISTRATION CRACKDOWN ON 'GHOST GUNS' TAKES EFFECT
Guns without serial numbers have been used in deadly violence over the past year, including in New York, where a teenage girl was killed outside a high school in the Bronx, and in Sacramento, when a man fatally shot his three daughters inside a church.
The APPS registry included 23,869 people as of Jan. 1, including nearly 9,300 active cases. The remaining cases — almost 15,000 — include people who are incarcerated, have moved out of state or cannot be located after multiple attempts, Bonta's office said.
In one case, an attempt to contact a man in Costa Mesa led to an eight-hour armed standoff in Southern California after he fired at the officers. The suspect was on the state's list because he had a misdemeanor conviction for domestic violence, as well as an active misdemeanor arrest warrant. He eventually surrendered and authorities recovered a rifle, a shotgun and multiple handguns, the attorney general's office said.
CLICK HERE TO GET THE FOX NEWS APP
Last year, the total seizure included 712 handguns, 360 rifles, 194 shotguns, 80 assault weapons, three short-barreled shotguns and a machine gun, as well as more than 281,000 rounds of ammunition, according to a report released Monday.
That's roughly comparable to seizures in 2021, when 1,428 firearms — including 39 ghost guns — were taken by law enforcement under the APPS program.