California homeless encampment may be responsible for apartment building blaze, officials say
NEWYou can now listen to Fox News articles!
A nearby homeless encampment may be responsible for a raging fire that tore through a Southern California apartment building early Wednesday, injuring three people.
The Los Angeles Fire Department said the blaze was reported at an apartment building in North Hollywood around 1:13 a.m. and was extinguished in 38 minutes by 87 firefighters.
Video from the scenes showed fierce flames coming from the two-story apartment building and residents going door-to-door to alert others to the blaze.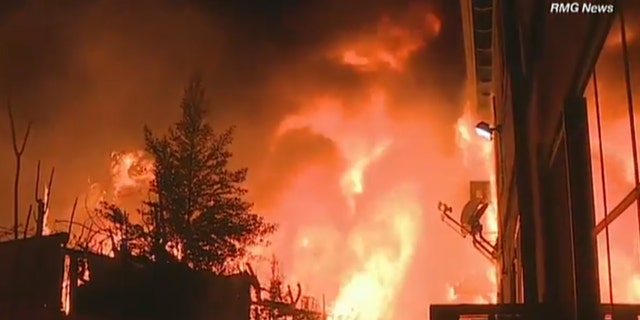 A 57-year-old man was taken to the hospital with burns, while a 30-year-old woman was transported with smoke inhalation, according to the LAFD. Their conditions were not immediately known.
One other person suffered minor burns but was not hospitalized, authorities said.
PORTABLE HEATER LIKELY CAUSE OF CAR FIRE IN WALMART LOT THAT KILLED 5-YEAR-OLD GIRL, POLICE SAY
"Thank God for the fire department," resident Moises Lerma told ABC7. "They got here quick. I mean, they came in and took care of what they're supposed to do."
The fire was believed to have started at a nearby homeless encampment, fire officials told FOX11, but the cause still remains under investigation.
Four apartments were destroyed in the blaze, the fire department said.