California high court refuses to intervene in Native American girl's move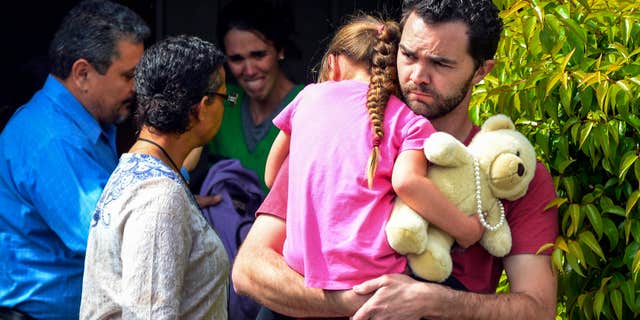 NEWYou can now listen to Fox News articles!
LOS ANGELES – The California Supreme Court on Wednesday refused to intervene in the case of a 6-year-old girl with Native American ancestry who was removed from her Los Angeles-area foster home and placed with relatives in Utah.
Foster parents Rusty and Summer Page are fighting the decision under the federal Indian Child Welfare Act to place Lexi with relatives of her father, who is part Choctaw.
The legal fight has gone on for years. Lower courts found the Pages had not proven Lexi would suffer emotional harm by the transfer.
The Pages have three children and want to adopt Lexi, who has lived with them in Santa Clarita since she was 2.
Lexi clutched a teddy bear and cried as she was taken from the Pages' home on March 21 as neighbors prayed and sang hymns in support of the family.
The Pages' lawyer, Lori Alvino McGill, said she was not surprised by the court's decision not to intervene, saying it was a longshot she had to take.
"Every day without a stay threatens irreparable harm to the Pages and to Lexi," McGill said.
The appeal to return Lexi to the Pages is still before the 2nd District Court of Appeal in Los Angeles. McGill said she plans to take the case as far as the U.S. Supreme Court.
Leslie Starr Heimov of the Children's Law Center of California, Lexi's court-appointed legal representatives, said the Pages have been portrayed sympathetically because Lexi lived with them for four years, but a lower court ruled three years ago that the girl should be moved.
"It was their litigation that prevented her from moving when she had only been with them for a year," Heimov said.
The Indian Child Welfare Act was passed in the 1970s to reunite Native American families broken up at disproportionately high rates due to cultural ignorance and biases within the child welfare system.
Lexi, who is 1/64th Native American, was 17 months old when she was removed from the custody of her birth parents. Her mother had substance abuse problems, and her father had a criminal history, according to court records.
McGill complained that the Pages have not been able to speak with Lexi since she was moved, as they were assured.
The plan is that the girl will have a relationship with the Pages and others who care about her, Heimov said. But because of the public nature of the dispute, determinations need to be made about how those interactions take place.