California fire department evicts beloved cat after complaint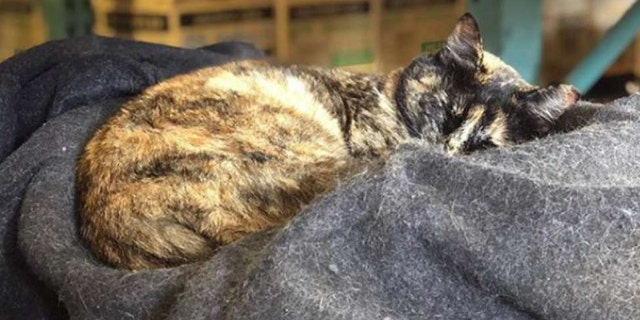 A California fire department had to evict their beloved cat after it received a complaint about the animal being around fire equipment and supplies.
Edna the cat was evicted from Station 49 of the San Francisco Fire Department after the city received an anonymous complaint about the animal's location near medical equipment.
FLUFFY THE CAT REVIVED AFTER BEING FOUND NEARLY FROZEN TO DEATH IN MONTANA
Edna was taken in by Station 49 of the San Francisco Fire Department five years ago when she visited the facility as a feral cat. She's popular among the station, and on Instagram, where she has 34,000 followers.
The city recently received an anonymous complaint about Edna, a tortoiseshell cat, according to a statement from the fire department. The station in question is not a fire station, but rather their Ambulance Deployment Facility, which houses medical supplies and other equipment.
Following the complaint, an investigation was launched and it was determined that Edna living in Station 49 "compromised the sterility of supplies, equipment and pharmaceuticals used on patients."
The fire department said that for over 20 years, they've had a policy that prohibits animals from department property and that Edna's removal was for her "own safety and well-being."
But the backlash to the complaint about Edna was swift, and the station stood behind their furry pal — alleging the complaint was filed "with malicious intent."
CLICK HERE TO GET THE FOX NEWS APP
"Leaving Sta49. She has somewhere to go now but it just sucks to uproot a once feral cat from her home of 5yrs and one that she could come and go as she pleased but chose to stay with unlimited 24/7 loving from 200+ amazing EMS members," a post on Edna's Instagram account read. "All this over an 'anonymous' complaint that was made with malicious intent."
The department said on Monday that a member of its ambulance staff adopted Edna to live with their family.
The Associated Press contributed to this report.