California bear cools off in a pool before being taken home, police say
A bear in California who wandered around a Los Angeles neighborhood on Tuesday and went swimming in a pool has been "safely returned back to his home," police said.
After being sighted in Granada Hills and getting caught on camera testing the waters in someone's backyard pool, the furry creature was shot with a tranquilizer gun, Fox 11 Los Angeles reported. The bear was reportedly set to be returned to the wild after getting struck by the dart.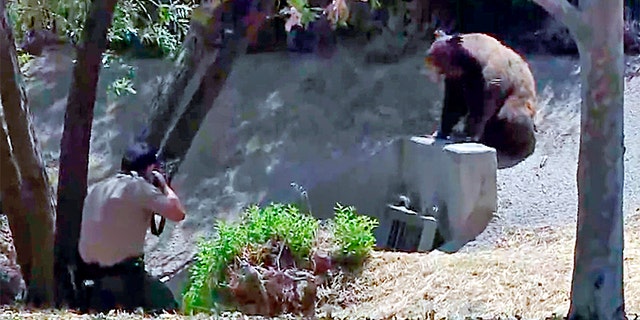 WOMAN IN WHEELCHAIR SERIOUSLY INJURED AFTER BEAR GETS INSIDE NEW HAMPSHIRE HOME
Police seized the moment to caution residents on the potential dangers of bears, while also quipping about hot temperatures in the area.
"We can't fault this furry guy for wanting to take a dip in this Los Angeles heat, however we are happy to report he was safely returned back to his home," the LAPD tweeted. "As cute as he looks, remember, he's a bear so keep away & call the authorities."
Police had advised people earlier in the day to remain inside after the bear was first noticed in the residential area.
The Associated Press contributed to this report.