'Burger King Baby' Katheryn Deprill reunites with mom after 27 years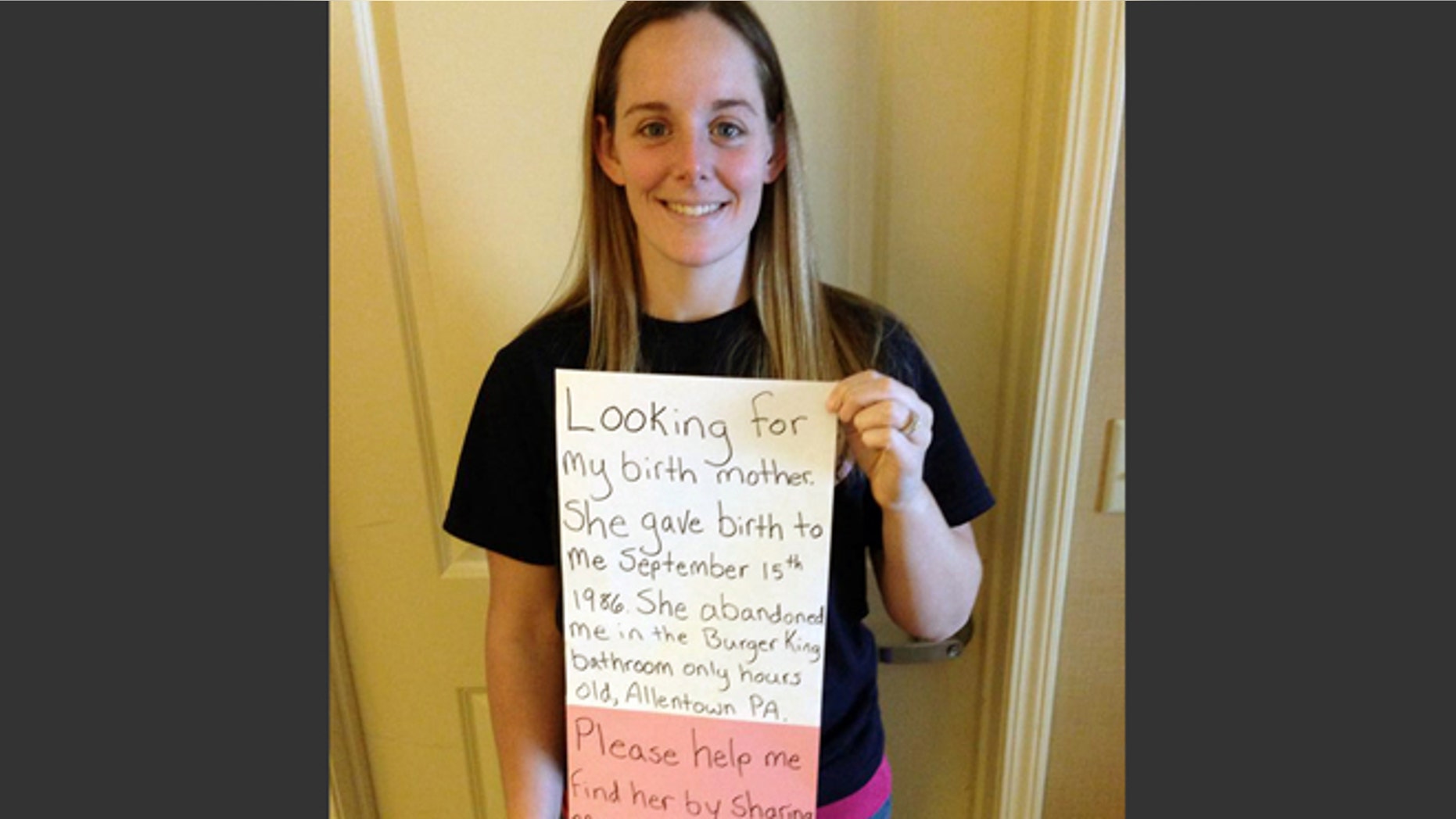 A woman who was abandoned as a newborn in the bathroom of a Pennsylvania Burger King restaurant says she has found her birth mother less than a month after posting a photo of herself on Facebook holding a "looking for my birth mother" sign.
Katheryn Deprill, 27, once known as the "Burger King Baby," said she felt "pure joy" when she met her biological mother for the first time Monday in an Allentown attorney's office.
"She is better than anything I could've ever imagined. She is so sweet and amazing. I'm so happy," Deprill said.
Bothered by doctors' questions about her family's medical history, Deprill earlier this month decided to seek out her mother, posting a photo on Facebook of herself holding a sign asking for help.
"Looking for my birth mother. She gave birth to me September 15th 1986. She abandoned me in the Burger King bathroom only hours old, Allentown PA," the note says. "Please help me find her by sharing my post. Maybe she will see this. Thank you."
The photo was shared more than 30,000 times by Facebook users around the world, and Deprill's story landed in numerous media outlets.
"Unless you're adopted, you're not going to understand that piece of you that feels like it's missing if you don't know who your parents are," Deprill, told FoxNews.com earlier this month.
The search effort caught the attention of the woman claiming to have abandoned her, and she came forward to attorney John Waldron, who arranged for them to meet.
Deprill said she bears a very strong resemblance to the woman, whose name she wouldn't disclose.
"It looked like I was looking in a mirror," she said.
Deprill, an EMT and married mother of three who lives outside Allentown in South Whitehall Township, said she embraced her mother.
"I got the hug that I had wanted for the last 27 years, and that broke the ice," she said. "I asked if I could have it, and she said, 'absolutely,' and just held her arms open, and the rest is history."
The pair met for about four hours and exchanged contact information. Deprill said they plan to meet again.
"We are definitely going to have a relationship," she said.
Deprill declined to address the circumstances of her abandonment, referring those questions to Waldron, who did not immediately return a phone message seeking comment.
She also declined to identify her mother after the meeting.
Waldron told WFMZ-TV that the woman said that, as a teenager, she was raped while traveling abroad and became pregnant. The woman said she hid the pregnancy from her parents and, when she gave birth, felt she could not take her newborn to the hospital.
Waldron said the woman recently had launched her own search for the daughter she gave up.
Deprill told the station her mother "was extremely upset that she had to leave me and it wasn't what she wanted, but she felt she had no other means. She was only 17 years-old."
"She left me somewhere she knew I'd be found. She did not want to throw me away."
The Associated Press contributed to this report.