Bundy's million-dollar herd of ornery cattle giving feds a meaty problem
The feds have rogue rancher Cliven Bundy behind bars, but corralling his million-dollar herd of ornery cattle is proving to be a much more daunting task.
The 69-year-old landowner, whose ranch 80 miles northeast of Las Vegas was the scene of a 2014 standoff with the Bureau of Land Management, was arrested last month on charges related to the Nevada incident when he left his ranch to travel to Oregon, where his sons were involved in another standoff with federal officials. Meanwhile, his 1,000 head of cattle are still roaming federal lands due, in part, to his absence and also to what officials call his "unconventional, if not bizarre" ranching methods.
"It is not just the land that is being trampled on, but the animals are hurt."
"Rather than manage and control his cattle, he lets them run wild on the public lands with little, if any, human interaction until such time when he traps them and hauls them off to be sold or slaughtered," said court documents filed by federal prosecutors last month. "He does not vaccinate or treat his cattle for disease; does not employ cowboys to control and herd them; does not manage or control breeding; has no knowledge of where all the cattle are located at any given time; rarely brands them."
Although federal authorities backed off from the 2014 standoff, the FBI monitored Bundy's movements and nabbed him at Portland International Airport Feb. 10 as he attempted to travel to Burns, Ore., to join his sons and others at Malheur National Wildlife Refuge. He was charged with crimes related to the Nevada standoff, including assault with a deadly weapon on a federal officer, conspiracy, obstruction of justice and other counts. He is being held without bail.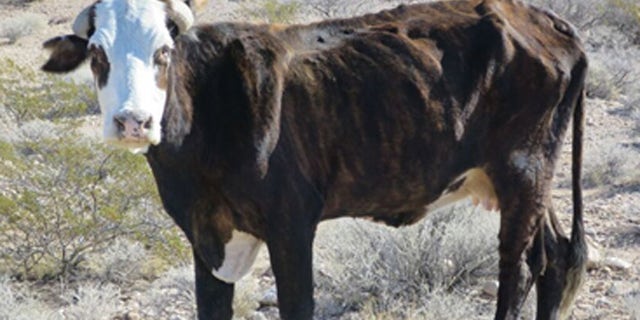 With Bundy in prison, his cows are "left to fend for themselves year-round, fighting off predators and scrounging for the meager amounts of food and water," according to federal prosecutors. In addition, the authorities maintain that the surviving cattle are "wild, mean and ornery" and are destroying fragile plant species and even destroying sacred Indian artifacts.
"Mr. Bundy's cattle continue to be in trespass," BLM spokesman Jeff Krauss told FoxNews.com in a statement. "There are no plans for a gather at this time as we continue to cooperate with the Department of Justice on the ongoing legal matter."
State and federal officials are trying to figure out what to do about the unruly herd. Flint Wright, animal industry administrator at the Nevada Department of Agriculture, said the problems have been ongoing for "many years and will only continue to worsen if action is not taken in the coming months and years."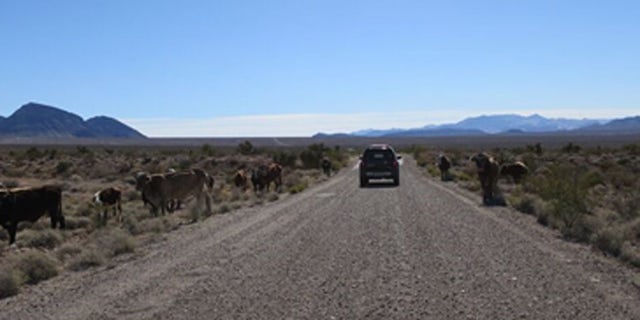 "When and if they do take action we will provide our services just as we have in the past, which includes brand inspections and identifying any stray cattle."
A roundup of the cattle on public land could mean they would become the property of the Bureau of Land Management, which could then potentially sell the herd.
The Bundy family has long refused to pay federal fees to allow their livestock to graze on public lands, despite court orders that culminated in a 1998 ruling that barred the family from ever utilizing federal lands for grazing. When federal officials finally moved in to round up cattle (the government said they were trespassing), the Bundys were joined by other protesters in a standoff that lasted several weeks and ended when the BLM released the cattle and backed off.
The Bundy Ranch is located on 160 acres in Bunkerville and surrounded by hundreds of thousands of acres of federal public lands known as the Gold Butte area. Bundy family members disputed accusations they mistreat their cattle, and said the size of the herd has been greatly exaggerated.
"Our cattle is our livelihood, we take good care of them. They are well-fed and receive plenty or water," one family member told FoxNews.com, dismissing claims that the herd was destroying government lands and property. "The manure fertilizes the ground, their grazing prevents fires. I would invite anyone to come out here and see for themselves that the cattle is well looked after. The government wants to paint us as inhumane, but we are a God-fearing family. We wouldn't have a livelihood if we destroyed our own land and cattle."
Bundy's sons, Ammon and Ryan, are also in prison, where they each face up to six years and hefty fines for their role in the six-week occupation of the wildlife refuge in Oregon, also a protest of alleged federal government overreach on public lands.
With the Bundy men behind bars and the ranch largely unmanned, some local activists say the government must step in to protect public lands – as well as the animals.
But according to Annette Magnus-Marquart, executive director of the Nevada-based Battle Born Progress, a non-partisan advocacy organization for equal opportunity for the people of Nevada, something needs to be done about the Bundy herd – and soon.
"It is not just the land that is being trampled on, but the animals are hurt," said Marquart. "They are roaming free and it is not how you take care of your animals. That land doesn't belong to Cliven Bundy; it belongs to all of us."