Brutal unsolved killing of eight members of Ohio family was systematically executed, autopsy shows
Autopsy reports released Wednesday in one of Ohio's most-notorious unsolved mass murders revealed the mysterious massacre was systematically executed – and brutal.
The April 2016 murders of seven adults and one teenage boy, all members of the Rhoden family, in their Piketon homes still remains unsolved more than two years later.
The report revealed Christopher Rhoden Sr., the father of the teenager and two others killed that day, was shot nine times and it noted that his body was decomposed "more than all the others." He appeared to have suffered a defensive wound to his right forearm and that another bullet went through a door before hitting him, the Chillicothe Gazette reported. His body was found in the back bedroom of a trailer.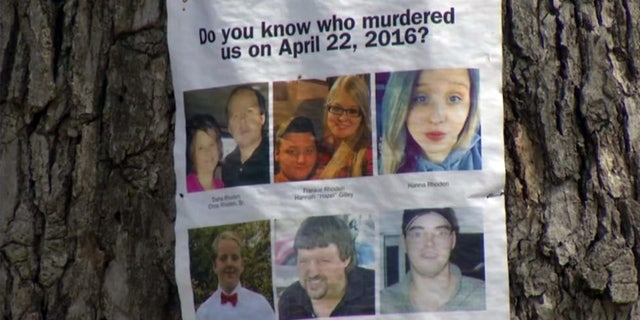 Gary Rhoden, Christopher Rhoden Sr.'s cousin, was also found dead in the same trailer, according to the Chillicothe Gazette. The report indicated a gun was pressed to his head, according to the newspaper.
Christopher Rhoden Sr.'s brother, Kenneth Rhoden, 44; his ex-wife Dana Manley Rhoden, 38; and their three children Clarence "Frankie" Rhoden, 20; Hanna Rhoden, 19; and Chris Rhoden, Jr., 16, were killed in the slayings. Clarence's Rhoden's fiancée, Hannah Gilley, 20, was also murdered.
Heavily redacted versions of the reports showed all but one of the victims was shot multiple times in the head. Information on bullet types were not released. Toxicology results were also blacked out.
Kenneth Rhoden was found dead in a camper three miles from where Christopher Rhoden Sr. was shot dead, according to the Chillicothe Gazette. He died of a single gunshot to his right eye.
Dana Manley Rhoden, and her children Chris and Hanna, were found dead in the same camper. She was shot four times on the right side of her head and once under her chin. Christopher Rhoden, Jr., was shot in the head multiple times and Hanna was shot twice in the head. She was found in her bed with her 5-day-old daughter, according to the newspaper.
Inside a separate trailer, Frankie Rhoden and Hannah Gilley were shot to death in their bed. Their 6-month-old son was found in between them, unharmed. Gilley had one bullet wound to her left eye. A second child in the trailer was also found unharmed.
Authorities suspect there were multiple attackers in the slayings and that they were familiar with the area. Piketon is located 70 miles south of Columbus. The killers are believed to have worked to cover their tracks, authorities have said.
"Nobody's seen anything like this," Pike County Prosecutor Rob Junk said Wednesday.
Christopher Rhoden Sr. had "a large-scale marijuana growing operation," according to Attorney General Mike DeWine, sparking speculation that the killings were drug-related.
The reports were released after the Ohio Supreme Court unanimously favored the Cincinnati Enquirer, saying Ohio law allows reporters to view preliminary autopsies and investigative notes, findings and photographs.
If "a journalist submits a proper request to review preliminary autopsy and investigative notes and findings, suicide notes, or photographs of the decedent made by the coroner, the coroner 'shall' grant the request," the court said.
The Associated Press contributed to this report.