Brothers charged in rape, murder of 16-year-old Washington boy
Two brothers were charged in the brutal killing of a 16-year-old boy in Washington state on Monday after the teenager's remains were found in a shallow grave last week.
Jonathon Adamson, 21, and Benito Marquez, 16, appeared in Lewis County Superior Court where they were each charged with first-degree murder, first-degree rape, tampering with physical evidence and unlawful disposal of remains in the death of Benjamin Eastman, according to Q13FOX.
In charging documents obtained by Q13FOX, prosecutors said that phone records show the brothers lured the 16-year-old into the woods on June 24 for a camping trip in Randle, located about 110 miles south of Seattle.
Adamson told detectives that after Eastman joined the brothers, he was knocked to the ground and kicked more than 100 times by the pair, according to court documents. At one point, the 21-year-old allegedly told police the brothers sexually assaulted the teenager with a stick while he was still alive, Q13FOX reported.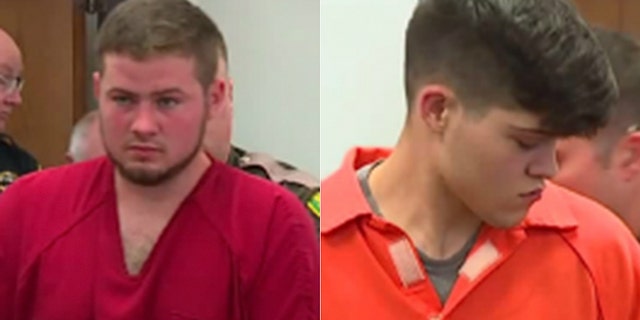 Eastman was then allegedly struck repeatedly in the head with a rock to make sure he was dead, before being buried by the brothers in the grave. After burning the 16-year-old's clothes and items used to dig the grave, the brothers dug Eastman's body back up and buried him in another place out of fears the first site would be discovered, court documents obtained by Q13FOX stated.
STRING OF UNEXPLAINED BABY DEATHS AT HOSPITAL LEADS TO MURDER CHARGES FOR BRITISH MEDICAL WORKER
The Lewis County Sheriff's Office said in a news release that deputies came across a shallow grave on June 28, but were initially told the gravesite was for a dog that had recently died. Officers, however, "felt the information was suspicious in light of recent report of the runaway/missing juvenile."
It was after digging up the site that officers discovered the remains, which were later identified as Eastman. A coroner ruled that Eastman died of blunt-force trauma to his head, The Olympian reported.
Classmates of Eastman described the 16-year-old as "always joking" and someone who would do anything for a friend.
"If you ever needed something he was there," Peyton White told Q13FOX. "He'd give you the shirt off his back."
Prosecutors decided on Monday to charge Marquez as an adult, and a the judge ordered the brothers held on $10 million bail.