Boy Pulled from Pacific Surf in Dramatic Rescue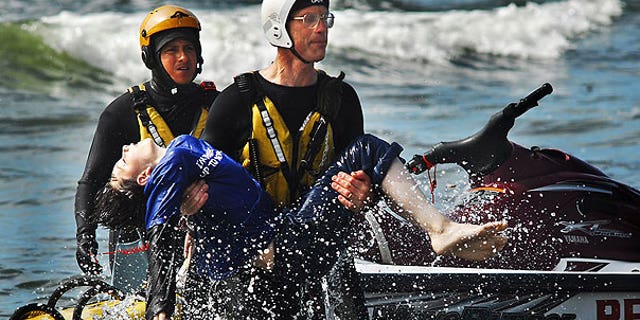 NEWYou can now listen to Fox News articles!
Long Beach, Wash. – A 12-year-old boy who spent as long as 20 minutes immersed in the Pacific Ocean surf before he was rescued is amazing his family.
"Maybe there is a miracle that's happening here," the boy's father, Chad Ostrander of Spanaway, Wash., told reporters Tuesday.
Charles "Dale" Ostrander was visiting the southwest Washington coast with members of his church youth group last Friday when he was caught in a riptide north of Long Beach.
Doug Knutzen is part of the volunteer surf rescue team that spotted the boy in the water. When Knutzen carried Dale from the surf and handed him to medics, the veteran rescuer feared the worst.
"I've been doing this since 1978," Knutzen told The Oregonian. "It's something you never get used to, but I knew that the boy was gone, absolutely gone."
Recording the scene was Damian Mulinix, a photographer from the Chinook Observer newspaper who had responded to the beach rescue. He says the other children from the church group sobbed and prayed.
"They were crying, face-down on the ground, praying -- it was a heart-wrenching scene," Mulinix said.
Medics started CPR. Finally, after Dale reached a nearby hospital, his pulse returned.
He was flown from the southwest Washington coast to OHSU Doernbecher Children's Hospital in Portland, Ore. On Sunday night, he opened his eyes as he was eased off sedatives.
On Monday he said a handful of words to his parents, Chad and Kirsten Ostrander. As they encouraged him to cough to clear his throat, he replied, "I don't have to."
Doctors have cautioned his parents that even if Dale survives, he could have permanent brain damage.
The physicians "were very clear that he had been under for too long, had been without oxygen for too long," Kirsten Ostrander said, adding, "We trust (God) no matter what.
"If he chooses to take Dale to heaven, and if he still chooses that, then he's still good," she said. "And if he chooses to bless us and give us back our son, he's still good."