Boston imam denies radicalizing faithful, despite video of fiery sermons
Several Boston-area terror suspects, including the man killed by police earlier this month as he allegedly sought to behead cops and two alleged associates, have frequently attended sermons given by firebrand imam whose message to the faithful doesn't match the conciliatory tone he struck when contacted by FoxNews.com.
"You must grab onto the rope, grab onto the typewriter, grab onto the shovel, grab onto the gun and the sword."
Imam Abdullah Faaruuq, of the Mosque for the Praising of Allah in Roxbury, Mass., has been seen on videos of his fiery sermons exhorting worshipers to commit acts of violence in the name of Islam. In videos of Faaruuq preaching, the former Northeastern University chaplain appears to skirt the line between metaphor and incitement.
"You must grab onto the rope, grab onto the typewriter, grab onto the shovel, grab onto the gun and the sword," he railed in one video reviewed by FoxNews.com. "Don't be afraid to step out into this world and do your job."
It is not known if convicted or suspected terrorists including the Boston Marathon bombers, Usaamah Rahim, who was brandishing a knife when police shot him on June 2 or two men who have since been charged in the same plot heard sermons like these, but all have attended prayers with Faaruuq. The imam has been on the radar of researchers at Americans for Peace & Tolerance (APT), a conservative group devoted to exposing Islamic extremism, since 2009. Ilya Feoktistov, director of research at the organization, says he first spotted Faaruuq at a rally in support of now-convicted terrorist, Tarek Mehanna, who was convicted for providing material support to Al Qaeda and conspiring to kill Americans.
"We knew he was a prominent Imam in the Boston Muslim community," Feoktistov told FoxNews.com. "We were concerned as to what he might be teaching."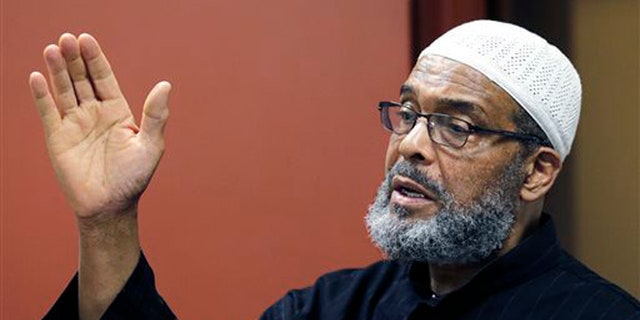 Usaama Rahim, 26, who reportedly was obsessed with killing anti-Islamist activist Pamela Geller, allegedly plotted with Nicholas Rovinski, 24, of Warwick, R.I., and David Wright, 25, of Everett, Mass., to help ISIS by killing U.S. citizens. Rovinski was arrested Thursday, and appeared in court Friday on charges of conspiring to provide material support to ISIS. Wright was arrested last week on a conspiracy charge and is due in court June 19.
In addition to preaching at the Mosque for the Praising of Allah, Faaruuq gave sermons at the mosque that Boston Marathon bombers Tamerlan and Dzhokhar Tsarnaev attended.
When FoxNews.com reached out to Faaruuq to ask about his teachings, including the sermon in which he mentions taking up the "gun and the sword," the imam said he was simply advising his followers to learn to protect themselves.
"You have to do your job to maintain the peace," he said. "We all need to pitch in to make this better, or our future will be increasingly gloomy. Get involved in the work you do to lift heavy oppression."
Neither the Boston police nor the FBI would comment on Faaruuq. But one active member of Boston's Muslim community, who spoke on condition of anonymity, said Faaruuq's words were not ambiguous.
"There are two types of people in Islam; radicals, and those that are peaceful," the man said. "We never talk of killing, and never talk of taking out our 'swords,' even as a symbolic measure."
The man said sermons like those given by Faaruuq are calibrated to stoke rage and promote radicalism.
"For a young mind, these statements carry weight," he said. "That young mind now thinks it can change the world with the sword."
Rahim reportedly comes from a devout Muslim family, but his parents did not attend Faaruuq's mosque, according to a family attorney. The attorney did not comment on how often Rahim attended prayers at Mosque for the Praising of Allah, but told FoxNews.com the family considers the imam, who has spoken out against the police who killed Rahim, a "close friend."
Faaruuq told FoxNews.com blame for Rahim's death lay with the police.
"Usaamah Rahim's death was an unfortunate incident that well could have been avoided if it were more appropriately handled by law enforcement officials," Faaruuq said. "There could have been some intelligence for them that came out of keeping Usaamah Rahim alive, but they didn't want to."
Faaruuq denied that his teachings radicalized listeners and said the real blame for terrorist groups like ISIS rests with the U.S. government policies.
"ISIS was not created by Islamic teachings," he said. "It was created by the United States' encouragement into other people's countries seeking weapons of mass destruction that don't exist, and destroying their societies and leaving the bitter taste in young people's mouths."
Still, in addition to attracting young men who gravitated toward killing in the name of Allah, Faaruuq has also defended known terrorists to his flocks. Americans for Peace & Tolerance provided FoxNews.com with another video in which Faaruuq told his congregation it must defend MIT graduate Aafia Saddiqui, known as "Lady Al Qaeda," who is serving 86 years in prison for attempting to kill FBI agents in Afghanistan and planning a chemical attack on New York City. ISIS tried to trade American journalists Stephen Sotloff and James Foley for Saddiqui before beheading the men last year.
In the video, Faaruuq praises Saddiqui effusively.
"They say she took up a machine gun while they held her captive in the other room and was ready to attack her captors," he said. "What a brave woman she is. And if my mother was in the same place, she would have taken her West Indian machete and cut her way through those kafirs (infidels)."
But when Fox News asked Imam Faaruuq about his relationship with Aafia Saddiqui, he explained that he never intended to defend the convicted terrorist, but rather look deeper into her situation.
"She is a 102-pound woman," he said. "I can't imagine she could have attempted to kill four men."