Boston doctors killed: Bag stuffed with jewelry found, suspect arraigned
The suspect accused in the brutal murders of two engaged doctors at their penthouse condominium in Boston apparently left a black bag stuffed with the woman's jewelry at the scene of the crime, a prosecutor said Monday during the arraignment in a hospital room.
The judge ordered the suspect, Bampumim Teixeira, held without bail on murder charges. The prosecutor did not give any additional details about a possible motive. Cut-up photos of the couple and a message of retribution reportedly appeared at the scene as well.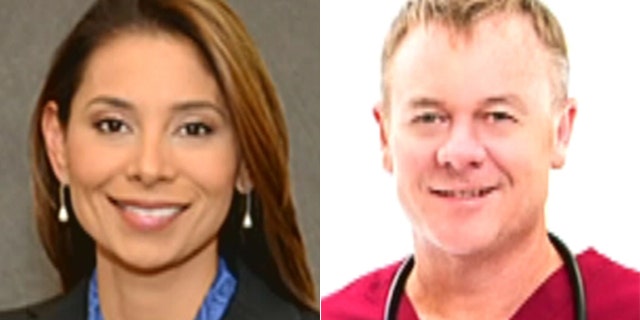 Richard Field, 49, and Lina Bolanos, 38, were found dead on the 11th floor of the Macallan Building Friday, police said. The doctors were bound at the hands with their throats slit -- and there was blood smeared on the wall, the Boston Globe reported.
An attorney for Teixeira, 30, entered not-guilty pleas on his behalf to two counts of murder. Teixeira kept his eyes closed through his arraignment at Tufts Medical Center, and his lawyer didn't argue for bail. Teixeira had been shot in the hand, abdomen and leg by police.
Field had sent a text message to a friend in his final moments saying there was "a gunman in the house," but when police arrived, it was too late, prosecutors told the judge.
At a press conference Monday, Suffolk County District Attorney Daniel Conley said Teixeira had not fired at the arriving officers, contrary to an initial statement by Boston Police Commissioner William Evans.
"[The] officers believed he pointed a weapon at them," Conley said. "We are not drawing any negative connotations of these actions, we are simply looking to correct the record."

TWO DEAD, EIGHT WOUNDED IN SHOOTING AT CHICAGO MEMORIAL FOR EARLIER DEATH
Conley also criticized news outlets who cited anonymous sources in reporting gruesome details about the crime scene Friday night. The district attorney said some of those details were "flatly, incontrovertably wrong" and their reporting "deeply hurt two grieving families." He did not specify what details were incorrect, citing the investigation and forthcoming court case.
Conley also said that there was no evidence that Teixeira knew either of the victims, "nor is there any evidence to explain why he would attack them so viciously in their own home."
Field was a doctor at North Shore Pain management and served as an anesthesiologist and pain management specialist at several other places, while Bolanos was pediatric anesthesiologist at Massachusetts Eye and Ear. The pair was engaged to be married, Fox 25 Boston reported.
Teixeira's ex-girlfriend told the Globe that he had sent her a mysterious text message and called her on April 22.
JORDAN EDWARDS CASE: TEXAS OFFICER WHO FACES MURDER CHARGE FREE ON BAIL
She said Teixeira told her that she would never see him again and that he did not plan to live long. He also told her he would never hurt anyone.
Teixeira was born in Guinea-Bissau and raised in Cape Verde, the Boston Globe reported. He moved to the Boston area when he was in his 20s, but started to live in shelters after having a falling out with his aunt.
He pleaded guilty to two bank robberies – one in 2014 and the other in 2016. In both instances, he passed the bank teller a note saying he had a weapon but never brandished one.
Fox News' Mike Arroyo, Kathleen Foster and The Associated Press contributed to this report.