Border patrol agents furious after tricked into providing security for 'cartel wedding'
NEWYou can now listen to Fox News articles!
A U.S. citizen banned from Mexico, who wed his Mexican fiancée during a special event at the border last month, was reportedly revealed as a convicted drug smuggler, leaving border patrol agents furious over providing "armed security for a cartel wedding."
Brian Houston was cleared to marry the love of his life, Evelia Reyes, during the "Door of Hope" event last month after passing a federal background check. He requested the ceremony because he claimed he could not cross into Tijuana.
But it has been revealed that the groom is barred from Mexico because he is a convicted drug smuggler, currently awaiting his sentencing in San Diego federal court after he was caught smuggling 43 pounds of heroin, 47 pounds of methamphetamine and 43 pounds of cocaine back in February, the San Diego Union-Tribune reported.
"The agents are upset, feel like they were taken advantage of, feel like they were duped," Joshua Wilson, vice president of the National Border Patrol Council Local 1613, told the newspaper. "Turns out we provided armed security for a cartel wedding."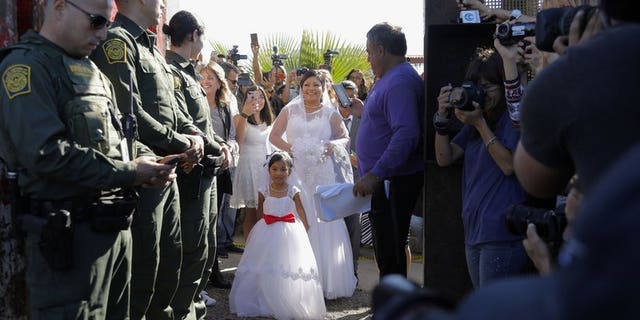 It was the first-ever wedding ceremony at the event that opens a steel border gate for an hour every year, allowing people who cannot cross the border to meet for about three minutes each. "It's a statement that love has no borders," the convicted drug smuggler told the Union-Tribune last month during the wedding.
The participants of the event were reportedly screened before the ceremony. Houston's conviction, however, did not appear during the federal background check.
The "Door of Hope" event is currently under scrutiny following the mishap with Houston.
The group organizing the event, Border Angels, said they do not vet the applicants themselves, only provides the Border Patrol with questionnaires filled out by candidates. Background checks are the responsibility of the border patrol, the group's director Enrique Morones told the Union-Tribune.
A Border Patrol official said Houston was screened through an internal vetting process based on information provided by the group organizing the event. The review did not show any criminal activity.
Morones said he was stunned after finding out Houston was actually a drug smuggler, adding that he will meet with Border Patrol officials to discuss the case and future events. "That goes against everything Border Angels stands for," he said.
The Associated Press contributed to this report.