Bomb-sniffing military dog Eddie retires with full honors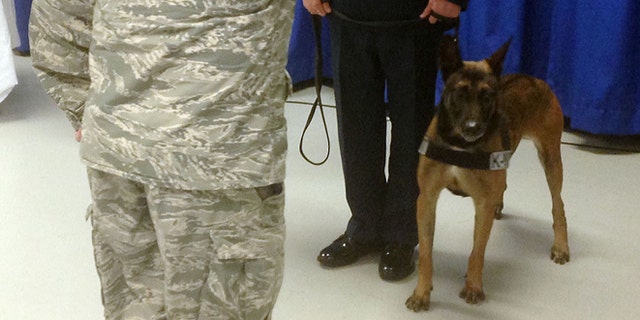 NEWYou can now listen to Fox News articles!
A hero bomb-sniffing dog credited with saving the lives of an entire military patrol in Afghanistan retired Friday with full military honors and will now be reunited with his first handler.
Eddie, a Belgian Malinois, found two improvised explosive devices containing 10 pounds of homemade explosives in 2012. It saved the lives of his 13-member patrol unit, which was made up of U.S. allied forces. Eddie had served MacDill's 6th Security Forces Squadron for the last five years and has also helped sweep government buildings, as well as presidential and vice presidential visit venues.
[pullquote]
Staff Sgt. Shannon Hutto thought Eddie was just being lazy when he wouldn't move from a certain spot one hot day in Afghanistan in 2012. But Hutto then saw what Eddie smelled: a homemade bomb, partially buried in the dirt. It was six inches from Hutto's foot.
"It was a high stress moment," Hutto said.
A short time later, Eddie sniffed out another improvised explosive placed on a bridge the patrol unit was about to cross.
Eddie saved Hutto's life, the lives of a dozen patrol members and countless people in the village. Hutto said he will be forever grateful to Eddie for saving his life.
During the brief retirement ceremony, Eddie wasn't quite sure what to make of all the people clapping, talking and saluting. He appeared nonplussed when someone formally handed Hutto a plaque.
But when Carol White, a private Air Force contractor, gave him a special cake made out of peanut butter and bananas, he dove right in.
As a working dog, Eddie wasn't allowed such luxuries. Now he's free to enjoy the pleasures of retirement.
"He can go and be a pet," said Hutto. "100 percent, sitting on the couch, playing with toys, sleeping in the bed."
The Associated Press contributed to this report.