'Bomb cyclone' winter storm brings snow, fierce winds to Northeast as bitter cold to follow
A rapidly-intensifying winter storm system known as a "bomb cyclone" targeted the Northeast on Thursday after leaving its deadly mark across the Southeast, snarling travel across the region with snow, ice, bone-chilling winds and a central air pressure similar to that of the devastating Superstorm Sandy.
The wicked winter weather left at least three people dead in North Carolina due to vehicle accidents. Two men died Wednesday night when their truck overturned into a creek in Moore County southwest of the Raleigh-Durham area. Sgt. Michael Baker identified the two killed to the Associated Press as the driver, 57-year-old Michael Alexander Wilson, and a passenger, 73-year-old Jerry David Wilson. Both were from Bear Creek.
In a separate crash early Thursday, a driver slid off a road in snowy conditions and overturned his vehicle in Beaufort County.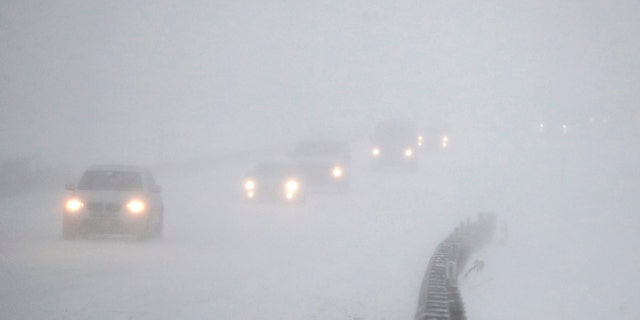 Also, one person died Thursday morning in Pennsylvania when a car in Lower Moreland crashed through a gate and into a commuter train, police said. The car with two passengers couldn't break at the bottom of a steep, snow-covered hill and hit a train headed to Philadelphia. Authorities said the driver was able to get out of the vehicle before smashing into the train, but the passenger was not. The body was located along the tracks.
"This could be one of the strongest offshore storms we've ever experienced with a central pressure in the 950s," Fox News Senior Meteorologist Janice Dean said.
The National Weather Service issued blizzard warnings for parts of Delaware, Virginia, Maryland, coastal New Jersey, Long Island, N.Y., and coastal eastern New England. Most of those areas could see at least a foot of snow, while nearly 2 feet of snow was projected in locales further north.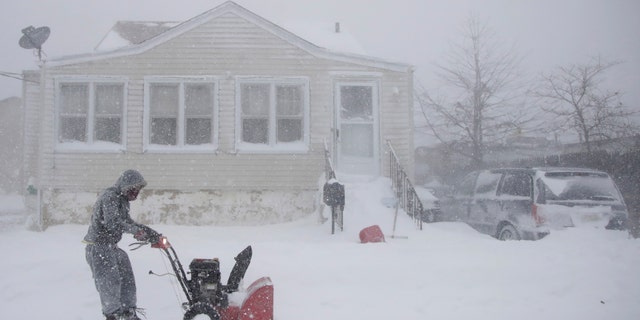 The storm has resulted in thousands of canceled flights at major airports such as Boston's Logan International Airport and the halting of all flights at New York's John F. Kennedy International Airport and LaGuardia Airport. According to FlightAware, more than 4,000 flights were canceled Thursday, while several hundred have already been canceled for Friday.
"This could be one of the strongest offshore storms we've ever experienced with a central pressure in the 950s."
People who take to the roads are in for an "ugly, long commute" said New York Gov. Andrew Cuomo, who declared a state of emergency across New York City, Long Island and Westchester County. He also issued a travel advisory until 4 p.m.
New Jersey State Police said the agency has responded to over 250 crashes and 554 motorist aids so far, including "spinouts, flat tires, mechanical breakdowns."
In New Jersey, Orlando Igmat's car got stuck in a snowbank along the Garden State Parkway in Tinton Falls on Thursday morning as he drove to work at Verizon. He had to wait a half hour for a tow truck to pull him out.
"I just skidded on the road and then stopped me here so I can't move right now anymore," he told the AP. "I didn't expect it (the storm) was going to be a heavy one. That's why I went to work today. I'm going to stay in a hotel tonight."
Ankle deep snow and wind gusts approaching 50 mph covered Maryland's Ocean City Boardwalk, which was under a blizzard warning Thursday.
Coastal flooding was also reported in parts of Boston and Eastern Massachusetts. The NWS' Boston office said the afternoon tide observation was on its way to being the highest ever recorded since 1921.
Some computer models have shown the storm with a minimum central air pressure below 950 millibars when it reaches its peak, which would be similar in strength to that of Superstorm Sandy, which had a minimum pressure of 945 millibars when it slammed into New Jersey in 2012, according to the National Oceanic and Atmospheric Administration.
This storm will stay completely out at sea, but bring winds "in excess of hurricane-force" along the coast, according to Dean, with "damaging" wind gusts of over 70 mph possible in coastal eastern Massachusetts, including Martha's Vineyard and Nantucket Island by Thursday afternoon.
Ryan Maue, a meteorologist at the private firm Weather.US., said the storm is "one of fastest intensifying non-tropical storms in historical analysis."
'BOMB CYCLONE' WINTER STORM TO HIT US EAST COAST: WHAT IS IT?
Eastern Massachusetts and most of Rhode Island were bracing for as much as 18 inches of snow, with snow falling at a rate of 3 inches per hour possible. The National Weather Service warned of wind gusts hitting near 70 mph.
"The heaviest snow is expected in eastern New England and eastern Long Island, where a foot or more of snow is possible," Dean said.
A man working at a food truck in Times Square told Fox News he had only a handful of customers Thursday morning as the blustery weather was keeping tourists away from the destination, which, only days earlier, was packed with more than a million people for New Year's festivities.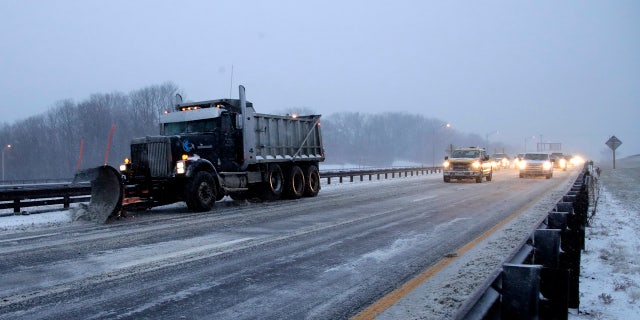 The storm has also knocked out power to more than 100,000 homes along the East Coast. Several New England states, including New Hampshire, Rhode Island and Maine have reported outages.
The state of Massachusettes alone had more than 22,000 outages. The Eversource electric utility said more than 5,500 homes and businesses were without power at midmorning Thursday in Provincetown, Mass., on the outermost tip of Cape Cod, which was being lashed with hurricane-force wind gusts.
Virginia had a peak of 45,000 outages, with about half restored by early Thursday afternoon. And customers in the Carolinas experienced about 30,000 outages on Wednesday.
Connecticut Gov. Dannel P. Malloy said more than 100 warming centers have been opened in 34 towns across the state. Connecticut has 634 state plow trucks and 250 contractors working to clear the highways.
Once the storm passes by Friday, the danger will still remain as "even colder Arctic air" arrives by this weekend, according to Dean.
"The dangerous second part of this storm will be the record breaking cold this weekend with lows in the single digits this weekend for parts of the Northeast and wind chills below zero," Dean said. "This will be life-threatening -- especially for those who lose power."
As even-colder temperatures take hold, the American Red Cross warns there is often an increase in the number of home fires. The organization says people should "keep all potential sources of fuel paper, clothing, bedding, curtains or rugs -- at least 3 feet away from sources of heat," and never leave portable heaters and fireplaces unattended.
There were concerns in Boston and elsewhere that if roads aren't properly cleared, they could freeze into cement-like icy messes by Friday, given the expected low temperatures. In other areas, plummeting temperatures already have caused water mains to burst.
Boston Mayor Marty Walsh said the city is taking steps to keep people safe during the storm, including closing city schools and implementing a parking ban that went into effect Thursday at 7 a.m., Boston 25 News reported.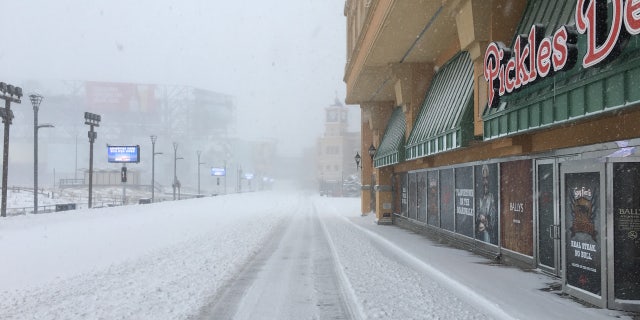 "We can't say it enough: Don't crowd the plow," Massachusetts Gov. Charlie Baker said at a news conference Thursday morning. "This is winter in New England, as our first big storm of the season makes its way across the Commonwealth, we ask residents to look out for each other."
He also urged companies to allow employees to work from home and asked everyone to use public transit if they absolutely must go out.
"The snow will freeze quickly and bitter cold temperatures will return," he added, urging residents to be prepared for extended power outages when the bitter cold air returns over the weekend.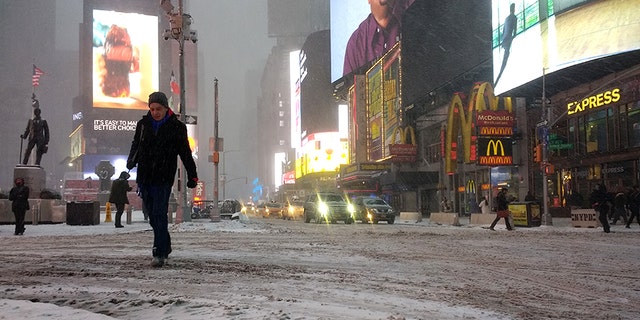 The New York City Sanitation Department dispatched 2,400 workers ahead of the storm to clear the streets, FOX5 New York reported.
"As the weather meteorologists have started to talk about, this is a bombogenesis, which means that we are going to have exceptionally strong winds," Commissioner Kathyrn Garcia said. "So anything that is falling in these cold temperatures is likely to blow around and drift."
SOUTHEAST SOCKED BY RARE SNOWSTORM AHEAD OF 'BOMB CYCLONE' FORECAST TO HIT NORTHEAST
Residents across the Northeast were also taking the proper precautions as the storm approached.
In the Boston area, there was minimum parking and not enough carts to go around at a Market Basket supermarket in Waltham, located in the western suburbs, according to Boston 25 News. Managers adjusted schedules to make sure extra employees were at the store, consistently restocking shelves that quickly emptied out.
"Well, I was going to get bread and milk. But there's no bread or milk," one shopper said.
Tressa Shifflett, of Virginia Beach, Va., told the Associated Press that she planned to spend most of her time Thursday playing Monopoly, Go Fish and Pokemon with her 11- and 13-year-old children.
"We basically just plan on hunkering down," she said
Doug Nashold, a retired Navy veteran of Norfolk, Va., said he was already dealing with a pipe burst.
BOMB CYCLONE: SEE NASA'S INCREDIBLE 'TEMPERATURE ANOMALY' PICTURES OF US DEEP FREEZE
"I thought I was prepared, but it got colder a lot quicker than I thought it would," he said.
The storm moved out of the Southeast after bringing rare cold and snow to the region. Floridians in Tallahassee saw snow for the first time in nearly 30 years, while Charleston, S.C., saw at least 5 inches of snow and ice. Savannah, Ga., also received about 1.2 inches of snow.
"I woke up this morning and the sun was shining in through ice sickles," Charleston resident Zack Lee told Fox News. "It's a winter wonderland it really is."
The blast of winter weather and plunging temperatures that has gripped much of the U.S. in recent days already has taken a human toll.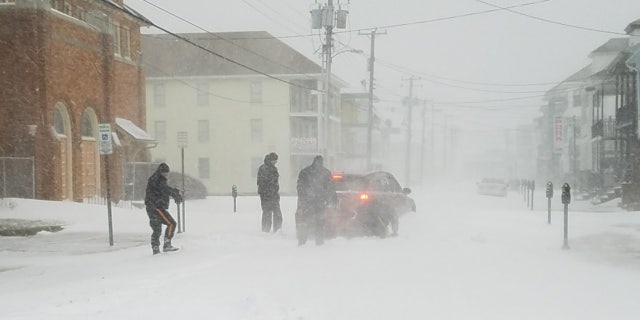 The number of deaths linked to the relentless cold had risen to at least 19 on Thursday. Two homeless men were found dead in Houston, where police said the deaths were believed to be the result of "exposure to frigid weather." Deaths also were reported in Mississippi, Michigan and other states.
Fox News' Greg Norman, Nicole Darrah, Terace Garnier, Elizabeth Zwirz and The Associated Press contributed to this report.