Body of Canadian tourist found wedged in rooftop water tank of downtown Los Angeles hotel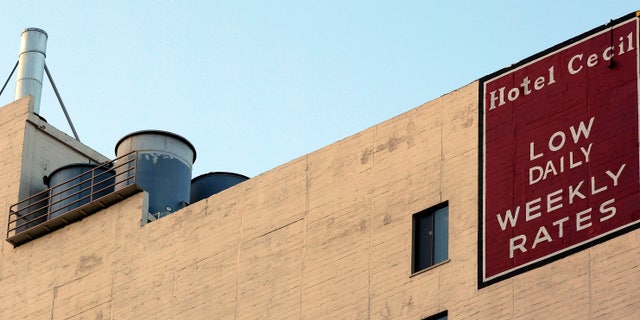 NEWYou can now listen to Fox News articles!
LOS ANGELES – Police were trying to determine Wednesday if the death of a Canadian woman who was missing for weeks before her body was found wedged into a water tank atop a Los Angeles hotel was the result of foul play or an accident.
The body of 21-year-old Elisa Lam was discovered Tuesday by a maintenance worker at the 600-room, downtown Cecil Hotel after guests complained of low water pressure.
Lam, of Vancouver, British Columbia, traveled to California alone on Jan. 26 and was last seen five days later by workers at the hotel near Skid Row that offers rooms for $65 a night.
Police initially called her disappearance suspicious. Investigators are now considering the possibility of foul play because of the location where the body was found. It was unclear what water from the tanks was used for.
An autopsy could be performed as early as Thursday to determine the cause of death.
Lam intended to travel to Santa Cruz, about 350 miles north of Los Angeles. Officials said she tended to use public transportation and had been in touch with her family daily until she disappeared.
Hotel surveillance footage showed Lam inside an elevator pushing buttons and at one point sticking her head out the doors and looking in both directions.
A call to the hotel seeking comment was not immediately returned. It was built in the 1920s and refurbished several years ago. Police said there have been reports of crime at the site.
The hotel had once been the occasional home to infamous serial killers such as Richard Ramirez, known as the Night Stalker, and Austrian prison author Jack Unterweger, who was convicted of murdering nine prostitutes in Europe and the U.S., the Los Angeles Times reported.
___
Shaya Tayefe Mohajer can be reached at http://www.twitter.com/APShaya
Lam was found wedged in one of several large water tanks on the roof of the 600-room boutique hotel.