Body found inside perimeter of northern California wildfire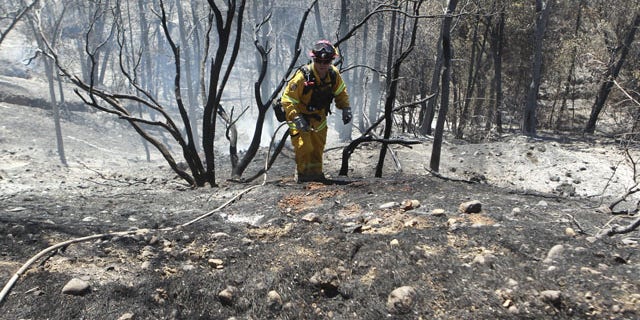 Authorities have found a body inside the perimeter of a wildfire that destroyed 37 homes and forced the evacuation of 300 others in Northern California.
The burnt body of Brian Stanley Henry, 56, was found inside a motor home that was destroyed by the fire, Shasta County coroner's Lt. Mark Lillibridge said Wednesday.
Sheriff's deputies discovered Henry's body late Tuesday while checking his home in the community of Igo (EYE'-goh).
The Clover Fire broke out Monday afternoon in the community of Happy Valley, about 150 miles north of Sacramento, and winds sent it spreading at 500 acres an hour. Residents were given just minutes to grab their belongings and leave, as the fire jumped roads and engulfed homes.
The fire burned 12 1/2 square miles. Cooler weather has helped firefighters contain 50 percent of the blaze.
Evacuation orders were lifted for some of the 300 homes that were threatened by the blaze because power has been restored and "the major hazards have been abated," state fire spokesman Mike Witesman said.
"We're making excellent progress," he added.
Officials reassessed the burned areas and revised the number of damaged homes to 4 instead of 30. In addition, 74 outbuildings in the rural area were destroyed.
Thomas Texeira said he initially battled the flames but left when the fire came within 200 yards of his home.
"I drove through a wall of flames," Teixeira told the Record Searchlight of Redding about his narrow escape.
Meanwhile, the Rim Fire in and around Yosemite National Park was 80 percent contained, with full containment expected Sept. 20. That blaze burned nearly 400 square miles.
Firefighters also gained ground on a wildfire burning in a San Francisco Bay Area wilderness park.
Containment of the Morgan Fire at Mount Diablo State Park in Contra Costa County increased to 80 percent. The fire has burned a little less than 5 square miles. All evacuations had been lifted, and full containment was expected by Friday.
Officials have said the Rim Fire was caused by a hunter. The causes of the other two fires remain under investigation.