Body found at Connecticut home that was site of explosion and standoff, police say
A set of charred remains were found Thursday in a Connecticut building that exploded amid a standoff with police that left nine officers injured, officials said.
Connecticut State Trooper Kelly Grant said at a news conference the remains of one unidentified person was found in a building at the home in North Haven.
A man, who has not been identified, had barricaded himself inside the home due to a domestic violence incident. Police have not identified the remains, however, the man was the only person believed to be inside the home at the time of the blast.
The owners of the property, Deborah and John Sayre, were going through a divorce, according to court records obtained by the Associated Press.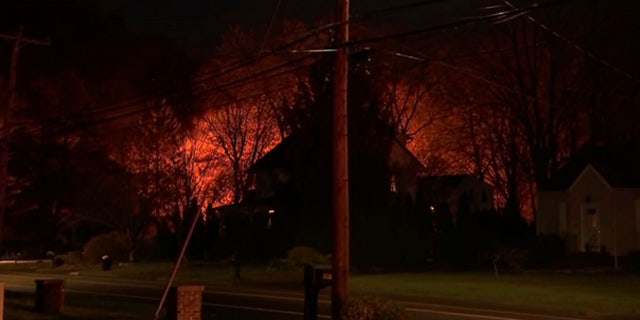 Deborah Sayre filed for divorce on April 18 and checked a box for a line that said the marriage had "broken down irretrievably." She did not immediately return a phone message Thursday to the AP.
North Haven Deputy Police Chief Jonathan Mulhern said the incident stemmed from a "domestic violence investigation."
"What I can tell you is our detectives began an investigation yesterday afternoon, and as it progressed we determined the need for a SWAT team," he said at a morning news conference.
SEVERELY BEATEN WOMAN ESCAPES FROM HUSBAND BEFORE EXPLOSION, FIRE INJURE 8 COPS, REPORTS SAY
The woman who sparked the investigation was not in the home at the time of the standoff, Mulhern said, adding it was not a hostage situation.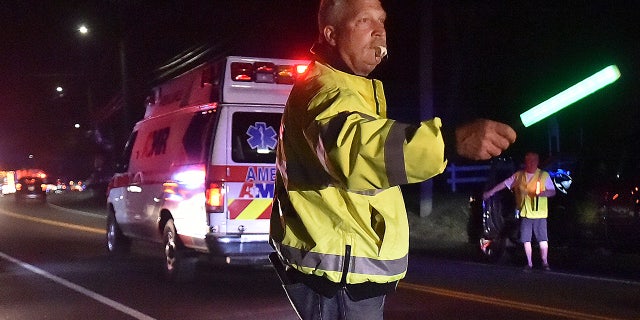 Nine officers suffered non-life-threatening injuries, according to Yale-New Haven Hospital. There are five officers fom East Haven, three from North Haven and one from Branford, Mulhern said
North Haven First Selectman Michael Freda told FOX61 the blast happened around 8:30 p.m.
"This started late this afternoon with what was apparently a very violent domestic call," he said. The police "were trying to coax him…out of the house and really try to calm the situation down. Then things took a turn for the worse with an explosion."
Firefighters on Thursday continued to battle the barn fire, which also damaged other structures and vehicles on the property.
Grant said authorities are investigating what happened before the standoff as part of their investigation.
"This is like a puzzle," she said. 'We are going to speak to witnesses, potential witnesses, put it together along with the evidence to come to one conclusion."
Residents near the home wrote on the police department's Facebook page that they heard the explosion and felt their own homes shake. Additional police rushed to the scene as the fire raged, and sounds of smaller explosions also were reportedly heard.
Police continued to try to coax the man out of the house even after the explosion on Wednesday night, witnesses said.
North Haven is located just outside of New Haven, home to Yale University.
The Associated Press contributed to this report.