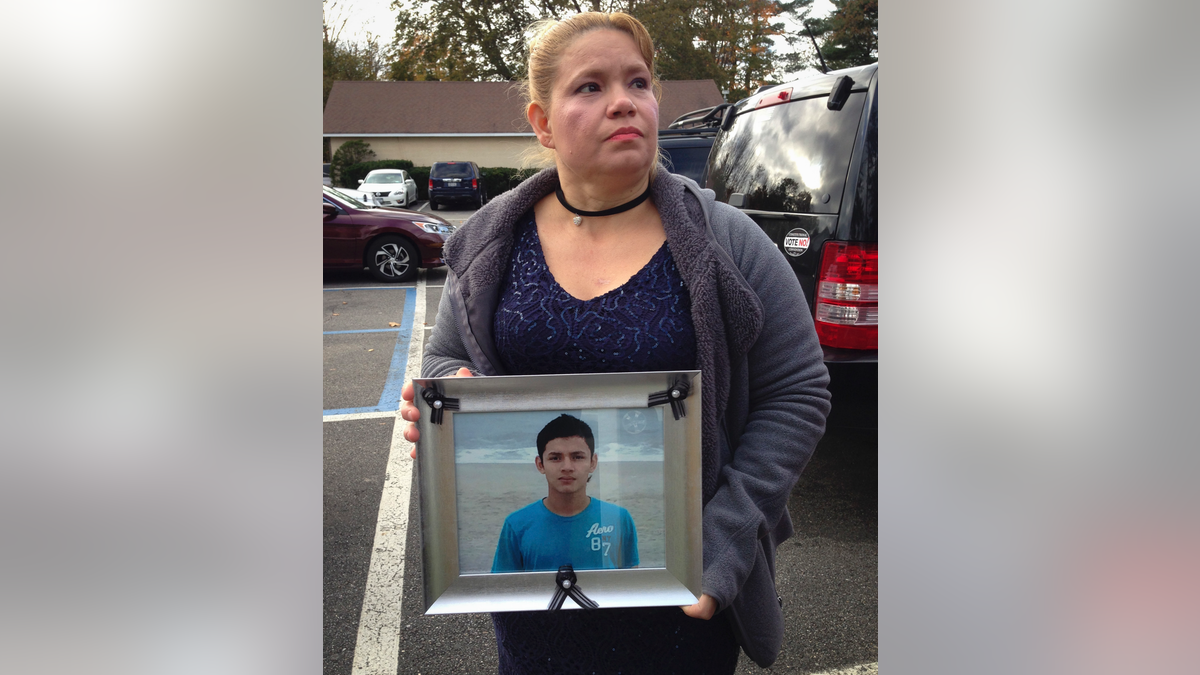 BRENTWOOD, N.Y. – Angel Soler's mother brought him to the U.S. as a young boy, figuring things would surely be better than in Honduras, where he had lived in one of the world's most violent cities. Javier Castillo's father made the same calculation when he took his young son out of gang-plagued El Salvador.
Life in the leafy Long Island suburbs of New York didn't prove to be any safer.
The corpses of the two teenagers, the latest victims of suspected MS-13 gang violence on Long Island, were found a few miles from each other in secluded areas late last month. Police also discovered the remains of another young man, Kerin Pineda, who, like Soler, had formerly attended Freeport High School.
Their fates match those of many of the more than two dozen people believed to have been killed by the gang in the New York suburbs in the past two years: They were Central Americans who came to the U.S. as children seeking a better life, then vanished, only to be found slain months later.
"Destroyed," Castillo's distraught father, Santos Ernesto Castillo, said Wednesday outside the funeral home where his son's wake was being held. "I don't have another word. Destroyed, because one brings his sons here to achieve their best, and this happens."
A handful of friends and relatives attended Castillo's wake at a funeral home in Brentwood. His father, a former police officer in El Salvador, asked that his photograph not be taken because he feared for other members of his family. Castillo's aunt proudly held a photograph of her nephew, smiling from a day he spent at Robert Moses beach on Long Island.
Castillo, who had attended Central Islip High School, was 16 when he vanished on Oct. 11, 2016.
"Over four months, every night we were out looking for him thinking maybe we would see him but that did not happen," his father told reporters in Spanish. "I though the police were doing something, but they let too much time pass."
The teen's remains were found more than a year later on Oct. 24 in a marshy area of a waterfront park in Freeport, more than 25 miles (40 kilometers) from his home. Police haven't revealed what led them to the body or when they think he died. He would have turned 17 during the time he was missing.
Castillo's aunt, Maria Lezema, described him as humble. "If people did not mess with him, he would not say anything. He did not bother anyone. He was quiet. He went from school to home."
Three days after Castillo was found, authorities located the remains of Kerin Pineda in thick woods near a large pond several miles away.
Pineda's mother, Lilian Oliva-Santos, told reporters her son was 19 when he vanished in May of 2016. He reportedly was talking with a girl on Facebook who told him to meet her in a wooded area.
"I brought him from Honduras here thinking everything would be better, here, like we would be safe, but I guess it wasn't," she told News12 Long Island.
Soler was 15 when he disappeared on July 31 this year. His body was discovered Oct. 19 in a wooded lot in the hamlet of Roosevelt. Homeland Security officials said they searched there based on a tip. The boy's mother, Suyapa Soler, told Newsday she came from Honduras 11 years ago and had her son join her four years ago to protect him from gang violence in their home city of San Pedro Sula.
On Friday, Nassau County prosecutors quietly arraigned a 26-year-old Wyandanch man, David Sosa-Guevara, on a charge that he and "others not yet arrested" hacked Soler to death with a machete.
In a joint statement, the county district attorney, Madeline Singas, and acting police commissioner, Patrick Ryder, declined to comment further, citing "a sensitive and ongoing investigation."
Authorities have not said whether any of the homicides are linked, although Soler's mother says he was friends with Pineda.
All three are believed to be victims of the MS-13 street gang, a law enforcement official told The Associated Press on condition of anonymity. The official could not speak publicly because of the ongoing investigation.
The gang has been blamed for at least 25 killings since January 2016 across a wide swath of Long Island. Earlier this year, both President Donald Trump and Attorney General Jeff Sessions visited Long Island with promises to help law enforcement stem the violence.
Police are also investigating a number of missing-persons cases involving young Central American men and boys who vanished, though they have balked at saying how many of those cases are believed to involve gang violence.
Suffolk County Assistant Police Commissioner Justin Meyers said the department is currently investigating 112 missing-persons cases involving people between ages 13 and 23 who have disappeared since Jan. 1, 2016. He said experience indicates, though, that a great majority of those cases will turn out to involve runaways or people who have failed to communicate their whereabouts to relatives.