BMW comes to stop atop construction barrier after nearly striking school bus in viral video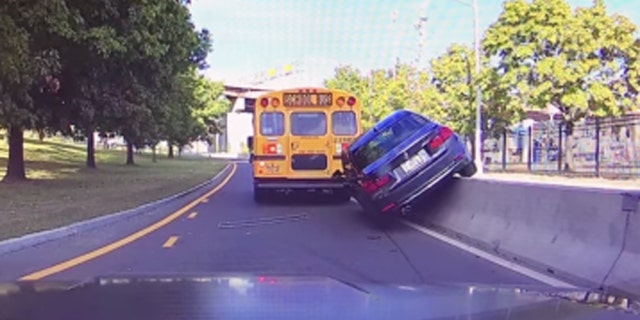 Viral video shows a BMW crashing into a construction barrier after nearly striking a school bus that it was trying to pass illegally.
The video from a dashboard camera was posted to YouTube where it has been viewed more than 2.1 million times as of Friday morning.
The BMW drove into the construction barrier and ended up straddling it after attempting to pass the bus on a highway entrance ramp in Albany, N.Y., Tuesday, WTEN-TV reports.
The station reported Thursday that there were apparently three kids on the bus. None were injured, but they were taken to a hospital as a precaution.
Albany police took a report and issued the driver of the BMW a ticket for unsafe passing, according to the station.
According to police, the driver mistakenly thought there was another lane to pass the bus.