Blue Angels flyover captured in Florida couple's wedding photos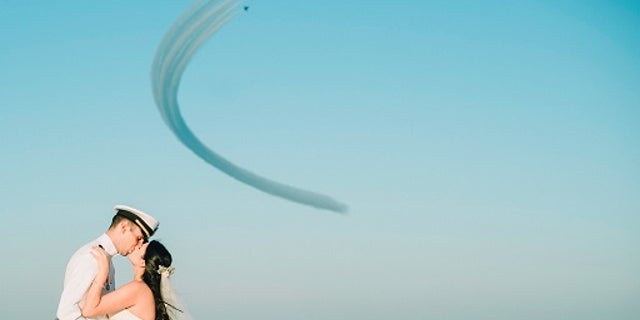 A photographer captured a stunning snap of the Blue Angels flying over a couple's beach wedding Sunday in Florida.
Rachel and Chandler Mills were posing for photographs after their wedding at Johnson Beach in Pensacola when the Blue Angels, the U.S. Navy's flight demonstration squadron, flew over, according to ABC News.
"People started pointing to the sky and screaming when they saw them," Jordan Burch, the Mills' wedding photographer, said. "But they went by so fast I couldn't adjust for them."
CALIFORNIA COUPLE CLIMBS MOUNT EVEREST FOR SPECTACULAR WEDDING: SEE THE PHOTOS
The couple got another chance when the Blue Angels suddenly flew over a second time. This time, Burch got the photo.
"We were in the middle of group portraits and I started to scream for everyone to get out of the photo because the Blues are coming," Burch said. "Everyone ran to get out of the photo and Chandler just ran to Rachel and kissed her."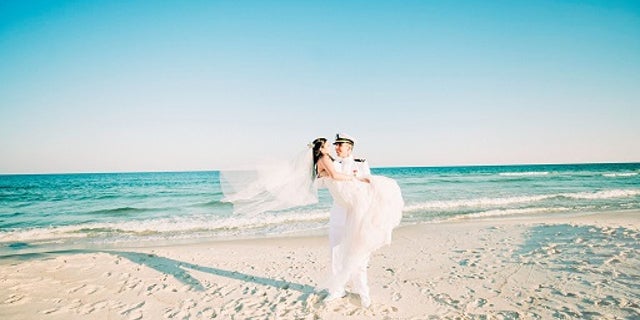 The couple met at the University of Alabama at Huntsville. The two had been dating long distance after Chandler, 26, who is a U.S. Navy ensign, moved to Pensacola, to attend flight school. Rachel, 22, joined Chandler in Florida after she graduated.
Rachel believes that her husband's Navy uniform may have been the reason the Blue Angels made two rounds in the sky.
They were flying kind of low, and it was kind of an unusual take for them to come back to that spot and especially to release their smoke," Chandler told WHNT.
BRAZILIAN TWIN SISTERS COMMEMORATE 100TH BIRTHDAY WITH STUNNING PHOTO SHOOT
"We are fortunate to be part of many great events throughout the year and we are honored that we were able to be part of their special day," Navy Lt. Joe Hontz, the Blue Angels public affairs officer, told WHNT.
The couple plans to visit the Blue Angels base next week to thank the pilots for making their day memorable.