Miami Black Lives Matter organizer faces felony charges after being accused of stealing flag from pro-Trump caravan
'Their goal is to have me in jail for two weeks, get beaten up by some officers,' the organizer said
A Black Lives Matter organizer in Miami is facing felony charges after being accused of stealing a flag from a pro-Trump caravan.
Jonathan Gartrelle, 31, was arrested on Monday night, and released early Tuesday, after posting bond. He is charged with strong-arm robbery and escape, as well as misdemeanor counts of resisting an officer without violence and obstructing a public street.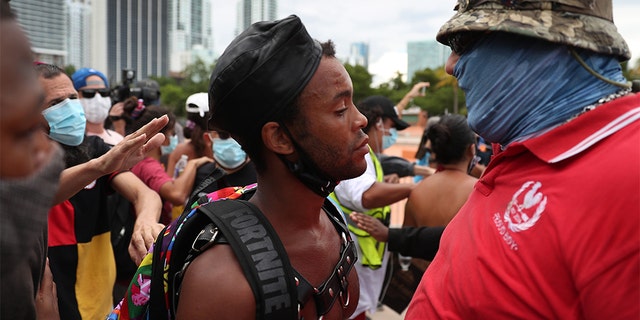 FEDS SUED BY PORTLAND CHURCH, OREGON LAWMAKERS, OTHERS OVER LAW-ENFORCEMENT RESPONSE
According to a police report of the incident, Miami police were responding to reports of a protester who was struck by a black SUV during the caravan.
Police said Gartrelle identified himself as the victim in the incident, but did not want to press charges and refused aid.
Gartrelle rejoined the crowd on the sidewalk after the incident, then went back into traffic and was seen removing flags from passing vehicles, damaging them and throwing them into the road, according to the report.
Police tried to arrest Gartrelle, who ran away.
CHICAGO SHOOTOUT AT FUNERAL SENDS AT LEAST 14 TO HOSPITALS, POLICE SAY
Police knew Gartrelle from previous protests, and used videos on Gartrelle's Instagram account to build a case against him, the report said.
Gartrelle posted the video of the black SUV running him over on his Instagram Sunday, writing, "That's how you get hit by a car, take note. They arrested the wrong black man."
The identity of the driver in the black SUV remains unknown.
DHS CHIEF PROMISES 'WE WILL NOT RETREAT FROM PORTLAND DESPITE CRITICISM, TELLS RIOTERS 'FIND ANOTHER LINE OF WORK'
Gartrelle told the Miami Herald that the charges were "overblown" — and that he took two Trump flags from parked cars and threw them on the ground, never stealing them.
"Their goal is to have me in jail for two weeks, get beaten up by some officers, and distract from the movement," Gartrelle said.
Gartrelle is demanding an investigation into the incident, according to a post on his Facebook page.
CLICK HERE TO GET THE FOX NEWS APP
Supporters of Gartrelle have established a new advocacy group called Justice for Miami, and are demanding prosecutors drop the charges against him and other protesters.
Gartrelle did not immediately return Fox News' requests for comment.
Police have stepped up arrests in recent weeks as civil unrest continues across the country sparked by the death of George Floyd, who was killed in Minneapolis while in police custody on May 25.
This article, originally published on July 22, has been updated.