Blizzard conditions cause more than 600 crashes in Minnesota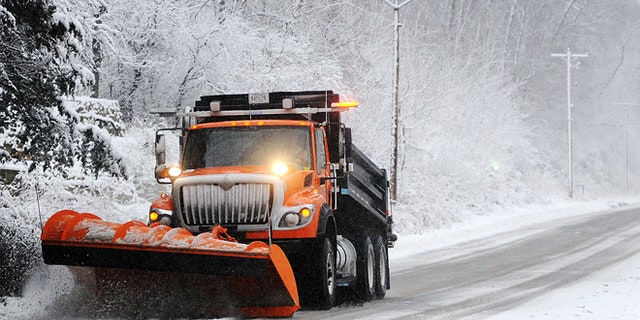 NEWYou can now listen to Fox News articles!
MINNEAPOLIS – At least this time the Metrodome roof stayed up.
A slow-moving storm dumped more than a foot of snow in parts of the Upper Midwest, making roads treacherous or impassable and leading to at least one fatal crash.
The system dropped at least 16 inches of snow on Minneapolis on Sunday, the city's heaviest snowfall since a blizzard two years ago caused the Metrodome roof to collapse. This time around, stadium officials resorted to blasting the heat in an effort to melt snow from the roof as quickly as possible.
Blizzard conditions, blowing and drifting snow made visibility so poor that the state Department of Transportation pulled snowplows off some highways in southwest and west Minnesota on Sunday afternoon.
The Minnesota State Patrol reported more than 600 crashes by Monday morning, and at least 1,140 spinouts, according to Lt. Eric Roeske, and driving conditions remained hazardous. One person was killed in a crash involving a semi near Red Wing and injuries were reported in 63 other accidents, the patrol said.
A large contingent of snowplows worked to clear highways, ramps and bridges in time for the Monday morning commute in the Twin Cities. Airport operations were running normally.
Other road accidents were reported in western Wisconsin including a jackknifed semi that closed a westbound lane of Interstate 94 near Menomonie, Wis., about 2 a.m. Monday. The storm also dumped more than a foot of snow on South Dakota at the weekend, forcing the closure of several interstates.
The National Weather Service issued a winter storm warning for the far northwest of Wisconsin on Monday, with snow accumulations of up to 9 inches expected through noon. The skies were overcast in the Twin Cities early Monday, but no watches or warnings were in effect.
The Twin Cities' heaviest snowfall last winter was barely more than 4 inches on Dec. 3. But two years ago, the area was hit with 16.3 inches on Dec. 11, 2010, causing the Metrodome to collapse and forcing the Vikings to play the final two games of the season elsewhere. The project to restore the inflatable roof cost $22.7 million, and officials there weren't taking chances of a repeat Sunday.
Steve Maki, director of facilities for the Metropolitan Sports Facilities Authority, said they cranked up the heat after Sunday's Vikings-Bears game and planned to keep it that way until the storm passed.
Some school districts in Minnesota, Wisconsin and South Dakota canceled or delayed classes on Monday morning.
Around 150 flights at Minneapolis-St. Paul International Airport were canceled Sunday due to the storm, airport spokesman Pat Hogan said. Flights were operating on time by Monday morning, according to the airport's website.