Black Lives Matter activists arrested after protest stops traffic in Virginia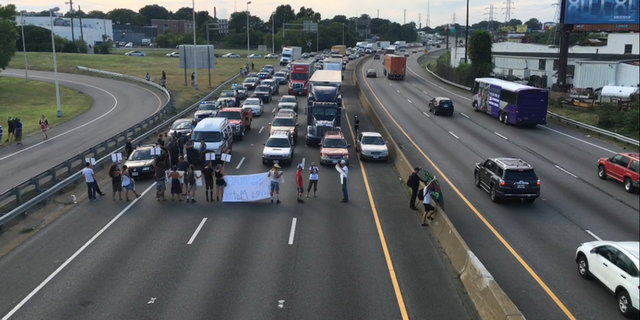 At least 13 people were arrested after protesters holding Black Lives Matter signs blocked all southbound lanes of Interstate 95 in downtown Richmond, Virginia Monday, local media reported.
Photos and videos from the scene showed the protesters standing in the interstate around 6 p.m. Monday. They also draped a Black Lives Matter sign on an overpass.
"It does not appear that the majority of those individuals are from the Richmond metro area," Deputy Steve Drew told WAFB. He said police arrested the protesters after they refused to budge.
Many of the protesters were white. Organizers told the news station the purpose of demonstration was to show white people "putting their lives on the line for black people."
Media outlets reported that traffic was backed up for several miles. The police were able to get the lane back open by 6:20 p.m.
"We respect the right of individuals to protest, however, we draw the line when the activities of life become handicapped. When you block an intersection, you don't know if people are going to the hospital, or emergency vehicles need to get from place to place. So when that happens, it becomes a problem," Richmond Mayor Dwight Jones responded.
The Associated Press contributed to this report.