Betty Shelby, Tulsa cop acquitted in shooting death of Terence Crutcher, resigns from police force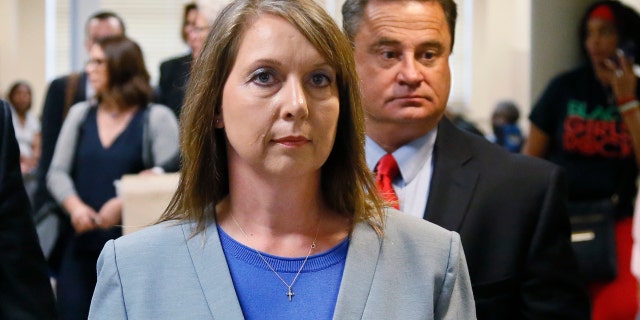 The white Tulsa cop who was acquitted in the shooting death of an unarmed black man has resigned from the police force.
Officer Betty Shelby was acquitted in the shooting death of Terence Crutcher in May. She submitted her resignation Friday and it will go into effect August 3rd, according to the Tulsa Fraternal Order of Police.
"Since being reinstated, I have found that sitting behind a desk, isolated from all my fellow officers and citizens of Tulsa, is just not for me," Shelby wrote in a press release distributed by the police union.
OFFICER BETTY SHELBY AQUITTED IN SHOOTING DEATH
"I am proud to have had the privilege to call myself a Tulsa Police Officer. It is an honor that I will cherish for the rest of my life," she said.
Shelby shot and killed Crutcher on September 16, 2016 after finding his vehicle in the middle of a two-lane street. The officer testified that Crutcher refused to listen to her commands and appeared to reach for a weapon.
She was charged with manslaughter and acquitted in his shooting death on May 17, sparking outrage from Crutcher's family and supporters.
PROSECUTORS: TULSA OFFICER ACTED UNREASONABLY IN SHOOTING
"Let it be known that I believe in my heart that Betty Shelby got away with murder," Crutcher's father, Rev. Joey Crutcher, said following the verdict.
Demonstrators also gathered outside the courthouse as the jury announced their decision, chanting "No justice, no peace. No racist police."
"The incident with Terence Crutcher was a tragedy for everyone involved, and I am sorry he lost his life. I pray for healing for his family. I will continue to pray for the unity of our community, the safety of our citizens and our police officers," Shelby said in her resignation.
The Associated Press contributed to this report.