'Best Mother's Day . . . ever' for mom of girl kidnapped, held captive in Cleveland house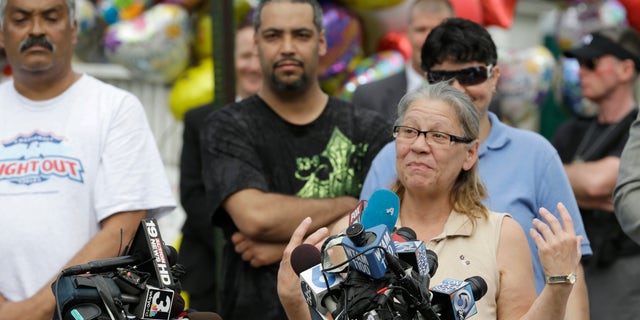 NEWYou can now listen to Fox News articles!
For nearly a decade, Nancy Ruiz hoped against hope her daughter was still alive.
Today, she celebrates "the best Mother's Day . . . ever" after a homecoming that – at last – brought the return of Gina DeJesus.
"This is the best Mother's Day I could ever have," Ruiz said, according to Reuters, following DeJesus' escape from the Cleveland house of horrors in which she and three others were held captive by the accused, Ariel Castro.
[pullquote]
DeJesus, now 23, was kidnapped at 14 while walking home from junior high school in 2004, and allegedly held in the basement of Castro's Cleveland home, along with Amanda Berry, 27, and Michelle Knight, 32.
Berry escaped Monday, and phoned 911, leading to not only Castro's arrest, but also the freedom of the two others -- as well as the child Berry apparently bore while in captivity.
However, while this Mother's Day proved joyous for Ruiz, the occasion is likely bittersweet for Berry, who lost her own mother during the 10 years she was held, and mothered a child, as well; police said DNA indicates the child was fathered by Castro.
Prosecutors are seeking murder charges, which could carry the death penalty, against Castro, 52, a former school bus driver who police said induced several miscarriages by beating and starving Knight.
Castro is currently charged with four counts of kidnapping and three counts of rape, prosecutor Victor Perez said. He is being held on $8 million bond.
According to Reuters, a city councilman briefed on the case said the women were subjected to prolonged sexual and psychological abuse and suffered miscarriages, never finding a chance to escape until this week.
Councilman Brian Cummins said that many details remain unclear, including the number of pregnancies and the conditions under which the miscarriages occurred. He also said the women were kept in the basement for some time without having access to the rest of the house.
"We know that the victims have confirmed miscarriages, but with who, how many and what conditions we don't know," Cummins said. He added: "It sounds pretty gruesome."
The Cleveland community has joyously welcomed the three women – and Berry's child. But while DeJesus and Berry were reunited with their long-lost families, Reuters reports there was no such homecoming for Knight, who slipped into seclusion after departing a hospital on Friday.
While at the medical facility, she reportedly refused visits from family members, some of whom believed she was a runaway when she disappeared in 2002 after losing custody of her young son, her grandmother reportedly said.