Beard gets Fort Hood suspect barred from court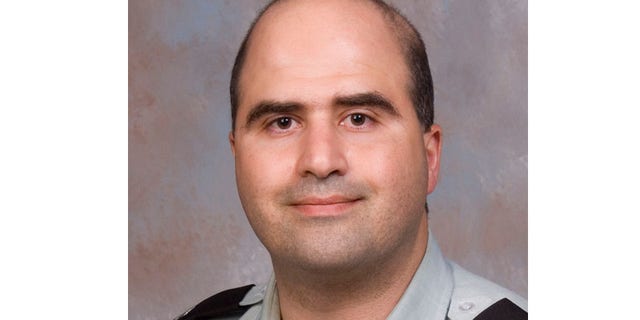 FORT HOOD, Texas – An Army psychiatrist charged in the deadly 2009 shooting rampage at Fort Hood was barred from military court by the judge Tuesday because he still has a beard.
Maj. Nidal Hasan was told that he couldn't attend any more hearings or his upcoming murder trial unless he shaves. The judge, Col. Gregory Gross, initially warned Hasan that he was violating Army regulations at a hearing earlier this month. That was the first time Hasan showed up in court sporting a beard.
Lead defense attorney Lt. Col. Kris Poppe told the judge that Hasan grew the beard as a "deeply sincere" expression of his faith and because he has a premonition he will die soon. Poppe quoted an imam who said growing a beard is mandatory or strongly encouraged for men of Islamic faith.
Hasan faces the death penalty if convicted of 13 counts of premeditated murder and 32 counts of attempted premeditated murder in the attack at the Texas Army post. Witnesses have said that on the morning of Nov. 5, 2009, a gunman wearing an Army combat uniform opened fire after shouting "Allahu Akbar!" — or "God is great!" in Arabic — in a Fort Hood medical building where deploying and returning soldiers received vaccines and other tests.
A prosecutor, Lt. Col. Steve Henricks, said Hasan never grew a beard during his military career and was only doing so now to prevent witnesses from identifying him at his trial, set for Aug. 20. Poppe said that an Army chaplain has discussed the beard issue with Hasan, an American-born Muslim.
Gross opted not to hold Hasan in contempt of court and did not force him to shave. However, Hasan was taken to a nearby room where he watched the rest of the five-hour hearing on closed-circuit television.
Gross did not rule Tuesday on several defense motions, including a request to delay the trial from August to December and a request for copies of materials used by a terrorism expert expected to testify for the prosecution. He did grant a defense request for government funding for a neurologist to perform tests on Hasan, including scans to check for a brain tumor. The next hearing was set for June 29.
During a break in the hearing, TV monitors in the courtroom showed Hasan and one of his attorneys in another room, but the judge turned them off when proceedings resumed, saying he didn't want Hasan's appearance to be a disruption.
"I'll wait for him to shave if he wants to come back in here," Gross told Hasan's attorneys. "He has a choice."
Poppe responded that it was a choice to "to obey you or his religious faith."
"That's not a choice for a soldier," Gross shot back.
Poppe said he would appeal the judge's ruling to a higher Army court because with Hasan barred from the courtroom, he has no way to communicate with his client.
Hasan, 41, is paralyzed from the waist down after being shot by police the day of the rampage. He remains jailed.