Bear locks himself in car, rescued by police in Colorado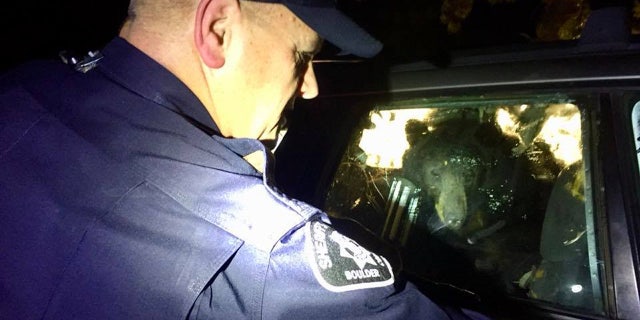 NEWYou can now listen to Fox News articles!
Turns out he wasn't smarter than the average bear.
A curious bear ended up needing help from police in Colorado on Monday after breaking into a vehicle and getting locked inside.
The Boulder County Sheriff's Office said in a Facebook post they responded to a report of a vehicle trespass and came across the unusual suspect on Conifer Hill Road, located about 60 miles northwest of Denver.
"A bear broke into a car and locked himself in. Car 0. Bear 1," the sheriff's office said.
Deputies were able to open the car door and safely let the bear out without anyone -- including the animal -- being harmed.
BEAR'S PERFORMANCE BEFORE RUSSIAN SOCCER MATCH CONDEMNED BY ANIMAL-RIGHTS GROUP
The sheriff's office said that bears are now beginning to look for food in neighborhoods as warmer weather approaches, and offered tips for living with bears.
"Trust us, you don't want to have to deal with a 'hangry' bear," the sheriff's office said.